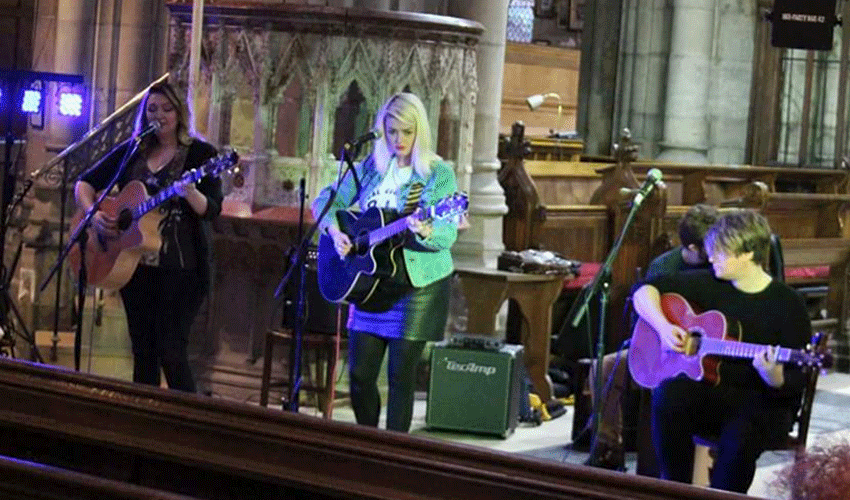 The Culture Train and Bus Tour 2018 will once again bring a taste of the Hull music scene to communities in East Yorkshire located both alongside the railway lines and accessible by EYMS buses.
The 'Culture Train and Bus tour' will bring musicians from Paragon Station to play free concerts at eight venues including the station itself as part of a project.
Chris Warkup of Quiet Riot Arts is looking forward to the project;
"This is a great opportunity to promote Hull music outside of the city continue our project to bring talented musicians to the village pub, a church or railway station and offer a chance to see great local music within your community."
"Hopefully this could lead to further events in the future or attract new people to attend events elsewhere if they develop a taste for local acts. It is all free so check it out and a big thank you to the Active Creative fund, Northern Rail and East Yorkshire Motor Services for creating this opportunity."
One of the major events of the tour is a free concert at the majestic St Mary's Church in Beverley on Saturday 30th June featuring the Happy Endings, the Quicksilver Kings, Elwhaeko and headliners Pavey Ark.
These are four acclaimed acoustic acts and a large crowd is expected for the free concert on the Saturday evening. The first band will be on for 7.15 so people are advised to come early. The event is free but music fans could contribute to the church funds through a collection on the evening or buying refreshments at the event.
The project was first held during 2017 help take music from the City of Culture to communities who were not touched by events linked to 2017 Year of Culture such as Hutton Cranswick or Nafferton and nineteen local acts performed at last years gigs.
This is an acoustic plug and play tour and musicians will only be able to take what they can carry, take a train from Paragon station to the location, walk to venues use such as Nafferton Methodist Church, plug in and play then catch the Hull train home around 10.30pm.
The project is funded by East Riding of Yorkshire Council's Active Creative fund but equally as important are Northern Rail who have supported the initiative and allowing musicians to travel free of charge to destinations on both the Hull to Bridlington and Hull to Goole lines.
East Yorkshire Motor Services have also come aboard this year and allowing acres to travel to both Market Weighton and Hornsea so most of the region will be visited by the tour.
TransPennine Express also support the Culture Train and they are to host a gig at Paragon Station on the afternoon of Saturday August 11th hosted by the young talent of Freedom Road Creative Arts.
The evening gigs wil be held 7pm – 10pm and the free events are as follows:
St Mary's Church, Beverley on Saturday 30th June
The Griffin, Market Weighton on Friday 27th July
Paragon Station afternoon showcase of young talent on Saturday 11th August
The Old Coach House, Goole on Saturday 11th August
The Buccaneer, Brough on Saturday 18th August
Hornsea Floral Hall on Saturday 8th September
Nafferton Methodist Church on Saturday 22nd September
The Telegraph at Bridlington on Saturday 13th October.
Twenty established acts from the Hull & East Yorkshire music scene will be performing at this year's gigs and this includes people such as Pavey Ark, Elwhaeko, Cuba Drive, Carrie Martin, The Happy Endings, The Quicksilver Kings, Urban Rain, Loudhailer Electric Company and many more talented performers.