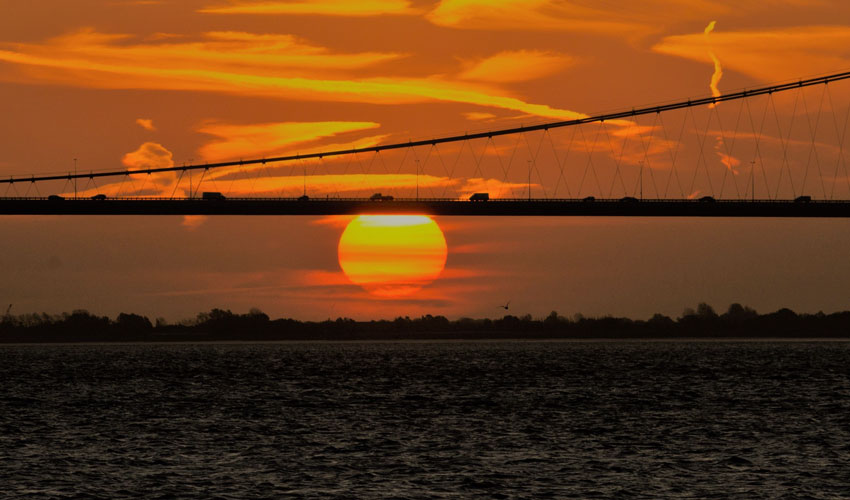 A keen amateur photographer from East Yorkshire has become the first winner of #YourBridge – a competition seeking to discover the best images of the Humber Bridge.
Mark Thompson, an IT worker with Hull-based communications company, KCOM, was voted January's winner by staff at the Humber Bridge, for a spectacular picture of the sun rising behind the Bridge.
The image, which was taken in October 2017, will be the banner image on the Humber Bridge Facebook page for the remainder of January and will feature on the Humber Bridge's website. The competition is supported by Hilton Photographic of Hull and London Camera Exchange, High Street, Lincoln.
Mark, 42, who is also a keen gardener, said being the first #YourBridge winner was 'fantastic news'.
He said:
"I love taking photographs of the Humber Bridge as it is such an iconic landmark.
"The photograph was taken at North Ferriby in October 2017. It just looked like a normal sunrise but then the distant clouds started to change and appeared like brush strokes.
"I spent more time looking at the screen on the back of my camera than I did taking pictures because it was amazing to see."
Competition organiser Tony Barker, the Bridge's Communications Manager, said there had been some stunning entries for January, but Mark's photograph had really stood out.
He said:
"The theme for the month was sunrises because at this time of the year, with the sun so low in the sky, we have some fantastic sunrises.
"Although there were some really strong entries, Mark's was a clear favourite among the panel. Thank you for everyone who took part and looks out for more opportunities to share your photography."
#YourBridge will be running throughout 2018 with a different theme each month, which will include events, nature and more weather.
The February challenge is to send in images of mist around the Bridge. Please submit your landscapes by 4th February 2018 to competition@humberbridge.co.uk.
The 12 winning images from across the year will then be compiled into a calendar, which will be sold, with profits going to charity. The cause will be chosen from nominations by Humber Bridge staff.
Here are some points to bear in mind when taking and submitting your images:
1. Only landscape (eg, wide) images should be submitted
2. Images should be sent as JPEGs
3. Images should be no less than 1500 pixels wide
4. Entrants must own the copyright of any image they submit
5. Entrants can submit as many images as they like each month
6. Entrants must include their name and contact information – email and phone number plus their location
7. Entrants retain full copyright of their images but grant licence to the Humber Bridge Board to use to promote the #YourBridge project, for general promotional purposes and in a charity calendar.
8. The images do not have to have been taken in 2017 or 2018 but can be great images which you may already have.
Terms and conditions can be found in the Competition section of www.humberbridge.co.uk or available via email from tony.barker@humberbridge.co.uk.