Gary Horrocks – writer, IT/information professional and editor of "Judy Garland – a Celebration" – discusses Beverley Film Society's upcoming BIG SCREEN showcase of A Star is Born, Beverley Parkway Cinema, Sunday October 15th.
"'A Star Is Born', in all of its restored 181 minute glory, is very much Judy Garland's triumph, conceived as a showcase for her extraordinary talent as a singer, dancer, actress and comedienne.
She and her third husband Sid Luft co-produced the Hollywood musical in partnership with Warner Brothers studio.
It was a huge financial, artistic and emotional investment for her, a return to the silver screen after a hiatus of four years of concerts, radio shows and recordings, including a tour of the UK in 1951 and an award winning nineteen weeks at the Palace theatre in New York. 'Star' is a musical remake of the 1937 love story, with all the songs especially written for Judy.
She assembled an army of talent by calling on colleagues and friends who she had worked or associated with over the years. Director George Cukor, playwright Moss Hart and music and lyrics by Harold Arlen and Ira Gershwin. Arlen wrote 'Over the Rainbow' for Garland, and her performance of 'The Man That Got Away' in this movie is a stunning physical tour de force.
Other great songs include 'Here's What I'm Here For', 'It's a New World,' 'Lose That Long Face' and the classic 'Born in a Trunk' medley. 'Someone At Last', with Judy in a pink blouse and tights posing for her famous 'big fat close up', is a superb parody of a typical day at work in Hollywood, played out at home for her co-star James Mason.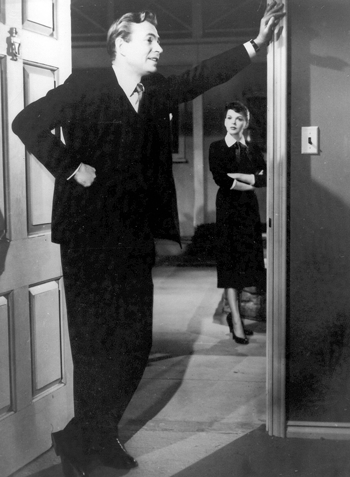 It's a stunning movie because you experience Judy Garland's vocal and dramatic maturity, a fusion of all of her experience at MGM Studios in the 30s and 40s amalgamated with her experience as a concert performer. Her singing had a strength and pathos to it; vulnerable and rich. Her performance of 'The Man That Got Away' was done in one single take and is just astounding. The film is also an expose of the reality and underbelly of Hollywood: Mason (Norman Maine's) descent into alcoholic oblivion while Judy (Esther Blodgett) ascends like a firework to fame and adulation. It's hard to think that she was only 32 when 'Star' was released, that she'd been working since she was two years old.
The last time I saw this on the big screen was at a George Cukor retrospective at London's National film Theatre in 2004. The most enduring memory is the audience bursting into applause after every song and as the final credits rolled. That's the impact Judy had on an audience. On the day before the 1955 Oscars show Judy gave birth to her son Joe. Astonishingly for many she didn't get the award for Best Actress. Groucho Marx said this miscarriage of justice was the biggest robbery since Brinks. Garland, though hugely disappointed at the rejection, was diffident and gracious. Her son was her Oscar. Husband Sid ordered champagne and caviar in her hospital room. I have some great anecdotes from that night to share on Sunday October 15th.
I've been editor of Judy's International Club journal since 1998, and it is now an invaluable source of information and rare archival photographs for researchers. The Club has members from all over the world, primarily the US and UK, but also Canada, Australia, New Zealand Germany, Italy, Switzerland, Norway, Japan and South Korea! I'd love to think we are bequeathing an archive of exceptional publications for future generations to refer to. In March 1963, with Judy's blessing and approval, the Club was established with Judy as Honorary President.
Judy received regular telegrams of support from the Club wherever she appeared and
members were in abundance at her opening and closing nights, and many nights in between. Members contributed funds to buy her cards and presents for Christmas and birthdays. In return Judy actively embraced and appreciated her supporters. She arranged for members to attend recording sessions and invited them to first night parties and back stage get-togethers.
In 1964 Judy attended a Club gathering at the Russell Hotel in London. She sat in the front row for a double bill showcase of 'The Harvey Girls' and 'Gay Puree' joking and making light-hearted quips. Much to the joy of the seventy-five strong crowd she stayed for five hours and sang 'I Wish You Love' and 'Make Someone Happy' to Peter Allen's piano accompaniment. News of the visit so impressed Hollywood veteran Ann Miller that she remarked: 'Can you imagine any other star doing that?' On June 27th 1970, the Club organised a memorial service in London exactly one year after Judy's New York funeral and over two-hundred people were in attendance. Reverend Peter Delaney presided over the service at the Parish Church, Marylebone.
Dame Anna Neagle, Evelyn Laye, Beatrice Dawson, Hattie Jacques and Danny La Rue were among the celebrities in attendance and Lionel Bart supplied the flowers. On July 20th 1970 the Club unveiled a photograph and plaque at the London Palladium, the first time such a celebratory gesture had occurred at the famous theatre. The plaque read: 'In loving memory of the incomparable Judy Garland – Miss Showbusiness 10th June 1922 – 22nd June 1969.'
It included all the dates of her Palladium appearances between 1951 and 1969 and recalled a 1951 reviewer's eloquent observation: 'It was not only with her voice but with her whole personality that she filled the theatre.' Richard Attenborough unveiled the plaque. The Club also organised the creation of the special award-winning 'Judy Garland Rose' by the famous English rose growers Harkness.
In 2000 we arranged for a plaque to be placed at the Dominion Theatre in London. The unveiling commemorated Judy's 1957 Dominion Theatre success and was an emotional event for many. The inscription on the brass tribute was based on Elizabeth Frank's assertion that 'All that is the essence of star quality [held] the stage at the Dominion.' I'm presenting a short documentary about that visit as part of the day.The show starts at 2 pm, but we have a Judy memorabilia sales table from 1 pm. Lots of books and vinyl. This will be a splendid event."
Beverley Film Society Presents:
Judy Garland's "A Star is Born"
at Beverley Parkway Cinema, Sunday October 15th
1 pm onwards
Book online or call/visit the box office
W: www.beverley.parkwaycinemas.co.uk
T: 01482 968090
Long before La La Land, there was Judy Garland in "A Star Is Born."
www.beverleyfilmsociety.org.uk
www.judygarlandclub.org