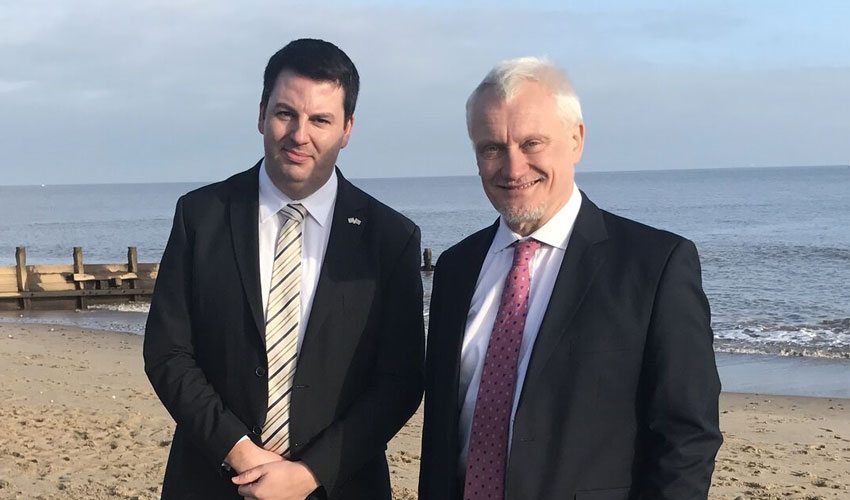 MP Graham Stuart has welcomed news that Hornsea is to receive £10,000 to help develop plans to boost the town's seafront a place he once called depressing.
Mr. Stuart who for some years has been calling for more to be done to support the tourism industry in Hornsea says it will be exciting to see the proposals residents and businesses come up with.
Previous visits to the town with the then Shadow Minister, Culture, Media and Sport Tobias Ellwood, led to the MP admitting that visiting the arcades in Hornsea was 'depressing'.
Now East Riding of Yorkshire Council and the Hornsea Area Regeneration Partnership have been successful in their bid to establish a DCLG-backed Coastal Community Team (CCT) in Hornsea.
The news, announced in Hornsea by the Parliamentary Under Secretary of State at the Department of Communities and Local Government, Andrew Percy MP, means the new CCT will be able to develop plans to boost the town's seafront.
Commenting on the success of the funding bid Mr. Stuart said;
"This is great news for Hornsea and local people will be delighted to see action being taken to boost the town. This meets ongoing demand from both residents and visitors to bring more activity to the seafront and it will be exciting to see the proposals the new Coastal Community Team brings forward.
"There will be strong local leadership under the Hornsea Area Regeneration Partnership and it's great that representatives from the Floral Hall, Hornsea Inshore Rescue, seafront business owners and the Council will be invited onto this group, ensuring the broadest possible experience and range of views."
Hornsea CCT will bring in experts to deliver a realistic plan to breathe new life into Hornsea's promenade, incorporating sports, play and artistic activities.
As part of this it will develop a funding plan for the future, find options for creating new play spaces and run a series of events to test out ideas that might be successful, including mini-golf, volley ball on the grassed area near the Floral Hall and mobile wall climbing.
The news means Hornsea joins Bridlington, Withernsea and Goole, each of which already has a successful CCT in operation.