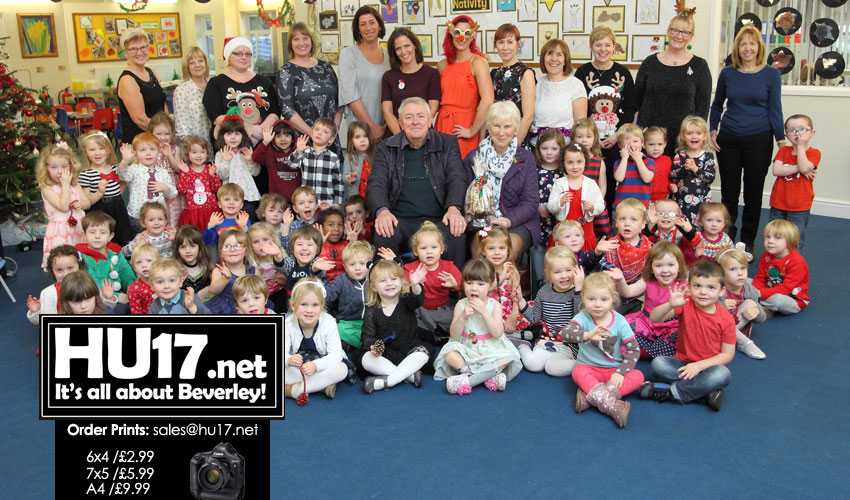 Children from Manor Road Nursery were celebrating after they learned they had won the Schools Category at the Beverley Minster Christmas Tree Festival.
Organisers of the event praised the children for their efforts describing their tree as a wonderful creation.
Peter Mounstephen and his wife Carol visited Manor Road Nursery to present the children with their prize. Commenting on their efforts Mr. Mounstephen said;
"It was a wonderful tree which was very popular picking up twice as many votes as anyone else. We are very happy to come to the nursery to present them first prize in the schools category."
Head Teacher Karen Hunter Head Teacher was delighted to learn they had won, she said;
"This was our first attempt and we entered as we wanted to raise the profile of the Nursery while it being a fun thing for the children to do.
"Children decorated the Christmas tree at Beverley Minster with pine cones and conkers that they collected and then turned them into decorations."
"We then set it as a task, which is form of homework, for the children to go and see the tree at Beverley Minster with their parents. Obviously it worked as we got 122 votes."
"Everyone at the nursery really enjoyed being involved taking part and we were delighted to win."
In all the festival that runs alongside the annual Festival of Christmas saw just under 6000 people visit Beverley Minster, an increase of 2,500 in just two years.
Mr. Mounstephen added;
"It was the most successful Christmas Tree Festival we have held to date with around 6000 people coming to the event."
"We started hold the event as the Minster is on the outside of the footprint of Beverley. It helps us draw people to the Minster some don't know it's there."
"Lots of people who live in Beverley have never been to the Minster, we want them to come, not to sell them God to them but to get them to come and experience the building."
Organisers had 79 trees at the event though plans are well under way to expand this to 85 as popularity continues to rise with the event.