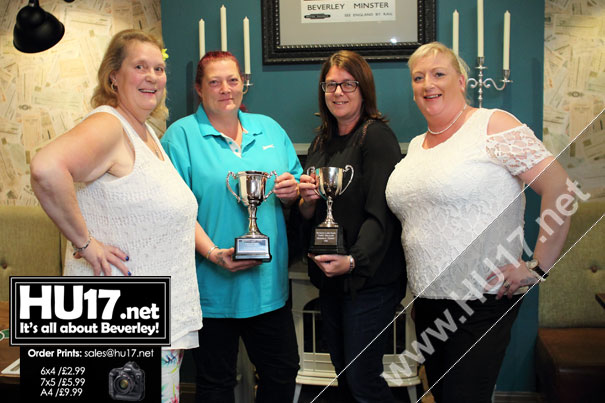 Queens Head Ladies Darts Team were celebrating after they picked up three awards for their efforts in what proved to be a highly successful season.
Playing in the Beverley Ladies Darts 'A' League Spring / Summer 2016 they scooped the League Championship, Champion of Champions and also an award for highest finish.
A delighted Claire Martin said;
"It feels great to win the A League as last season we were runners up. But with the 20 years odd experience in the team you think really we should of won."
"This was not a very easy as there are a lot of good players within the league. We only lost two games all season though."
"We have all strengths within our team of 8 players. Some who can get good scores and some that are good at finishing and some that are all rounder's."
"We are now looking forward to playing and winning next season which starts on Wednesday 7 September."
"A massive well done need to go to Lesley Brown got highest finish in the season checking out with 82."
Claire says the team are currently on the lookout for new players to take part in the league.
Darts provides people with a good social event and people need not have even played darts to get involved.
Anyone wishing to play darts should contact the Queens Head Pub in Wednesday Market.