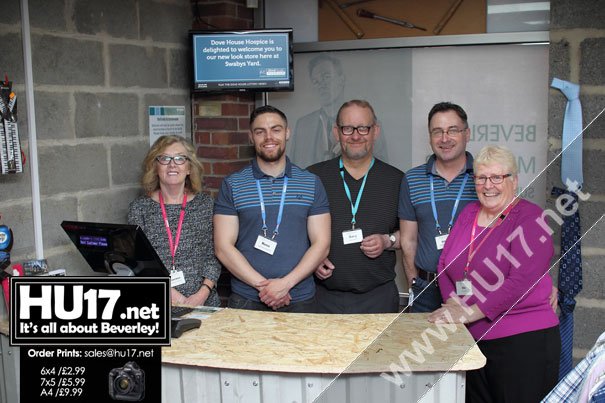 Dove House Hospice Men's Shop in Beverley has reopened following a two week refit that has seen them open up the space create a Workshop themed store.
Dove House who as a charity are tasked with finding £6m each year to fund their work in the community say the refit is necessary as retail plays an important part in those fund raising efforts.
Christopher Sadler from Dove House Hospice told HU17.net;
"This shop in Beverley probably makes more per square foot then the others. Retail is a massive part of our fund raising efforts bringing in around 50pc of the money we need so we have to invest in it or it will go down."
"As we have 35 shops we have to do these refits to freshen things up and offer something different on a regular basis. This latest one is part of an ongoing rolling programme."
"This is a completely different concept to what you would find a stereotypical charity shop to be, set out in a completely different way."
"We have to raise £6.7m every year to take care of patients in the area, that's the key issue here, it is recurring. It is not like a build project where you raise money and you have done it, you have to raise it every year. We get 10pc from the NHS rest we have to raise."
Marisa Haines, Retail Division Manager at Dove House Hospice told HU17.net;
"I think it is absolutely fantastic. We needed more space. The design has increased the footage and we have got a lot more stock out. There is a really unique and modern feel to it. As a store it performs really well and we have a lot loyal customers in Beverley."
Simon Coates, who is the manager in Beverley said;
"Where the till was the wall has been removed to make a bigger media section. This is one of our biggest sellers here in Beverley. Last year we sold 11,000 media items."
Media includes, books, CDs and DVDs and with the prices so low they are flying out their doors, but in some cases come back, Simon said;
"People will come in and buy a book or DVD and then when they are finished donated back so we can sell it on again. With books costing 50P and DVDs a £1 its very popular here in Beverley."
Re-opened by the deputy Mayor of Beverley, Dove House Men's Shop in Beverley is certainly worth a visit if for no other reason than to see the amazing job their man Mike has done on the refit.