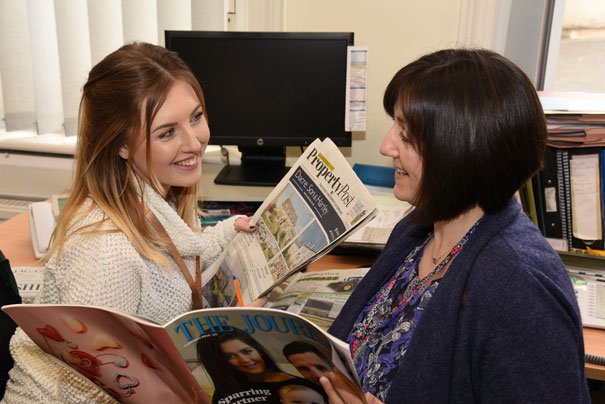 This week is National Apprenticeship Week (14 and 18 March) and the council is highlighting the benefits of hiring an apprentice.
Jessica Stones is an apprentice assistant advertising officer with the council and is working towards a level 2 qualification in business administration.
"After taking my A-Levels and leaving sixth form I decided that university wasn't the right choice for me," said Jessica.
"I'd had a part-time job for over a year, which I'd enjoyed, especially earning some money and learning new skills away from the school environment. I decided I'd like to carry on learning and earning but in
a job with more career prospects.
"As I've always been creative, I applied for the apprenticeship in the council's advertising team – a specialist area which I was interested in. The work is so interesting, I get to be involved in creating artwork, placing advertisements in newspapers, online and Facebook. I also deal with lots of different clients and the media and work alongside other teams within the council from fostering to The Spa Bridlington."
Angela Dixon, principal marketing officer, said:
"Employing an apprentice has been an excellent experience which I would recommend to other employers. Jessica, our apprentice, joined the council's advertising agency in July 2015. The nature of our work requires creativity, attention to detail and the ability to work to deadlines. Jessica is a valued member of the team, with her own workload and responsibilities, and brings a fresh perspective to some of the projects aimed at a younger target audience."
Councillor Jane Evison, cabinet portfolio holder for economic investment and tourism, said:
"National Apprenticeship Week helps recognise the important role apprentices play in the UK economy. Locally, the council employs apprentices and is committed to assisting people to access apprenticeship opportunities and in providing support for the area's business community in establishing apprenticeship positions."
For further information about the council's apprenticeship training programmes, visit www.eastriding.gov.uk/apprenticeships