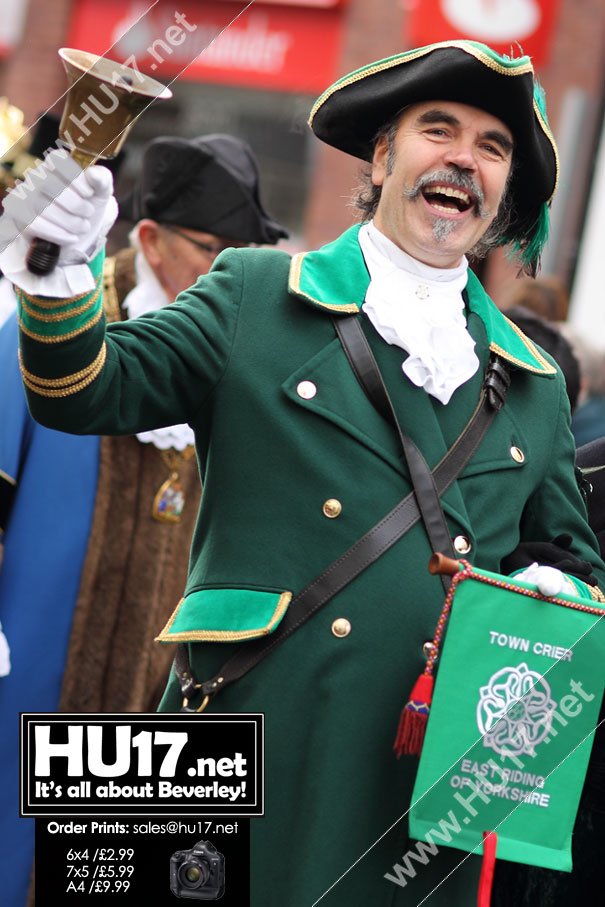 On the morning of Friday, 01 April 2016, at 1030 in Flemingate Shopping Centre, twelve of Britain's best Town Criers (including the current world champion) will attempt to set a new record for the World's Loudest Voice.
Bridlington based noise measurement experts, Cirrus Research, will be on hand to record the attempt.
Thereafter at 12-midday at the historic Market Cross in Beverley, celebrations begin in earnest to mark the 20 year milestone since Humberside was consigned to history and the East Riding was reinstated.
Michael Wood, East Riding of Yorkshire Town Crier, will attempt a second world record by looking to set the title of World's Quietest Town Crier through a specially written birthday proclamation.
Michael said: "In my line of work I'm not usually asked to speak-up, but I am often asked to be less loud. As such, this attempt is aimed mainly at those in the community who like to listen quietly to the spoken word in public."
Those attending can enjoy a free slice of birthday cake specially baked for the occasion by Beverley based Vanessa Deli and the tasting of a beer specially brewed by the Yorkshire Brewery Company.
The Coastal Voices Choir from Bridlington will be present to help sing Happy Birthday celebrations, along with CBBC and television presenter Ben Shires, and other East Riding residents chosen to conduct a special cry of three cheers.
A toast will be given "to the next 20 years" by the Chairman of East Riding of Yorkshire Council.
There will then be a town crying competition with competitors from as far afield as Liverpool, Chester, Stafford, Kendal and the City of Lincoln. The day concludes with the launch of a Yorkshire Champion Club Sandwich and an Ale Tasting at Deli No1 in Flemingate.
At 12-midday on Saturday, 02 April 2016, at Flemingate Shopping Centre, day two of the celebrations continue. A "Bells Up" to the county will be given.
This will take the form of a one-minute-noise not just of Town Criers bells but also the bells of Beverley Minster and members of the public, who are urged to attend the occasion in possession of any bell sounding item such as a mobile phone ringtone, bicycle bell, alarm clock or indeed a bell.
This is the third of the weekend's world record attempts, with the aim this time of trying to have the most people gathered in one place ringing bells.
The Town Criers will then continue with part two of their competition when one of the themes will be the Tour de Yorkshire.
The event over both days is free. In celebrating 20 years since the reformation of East Riding, Town Crier Michael Wood hopes that the public will turn out in large numbers to be part of creating three world records that will help keep the county firmly on the map and its pride to the fore.