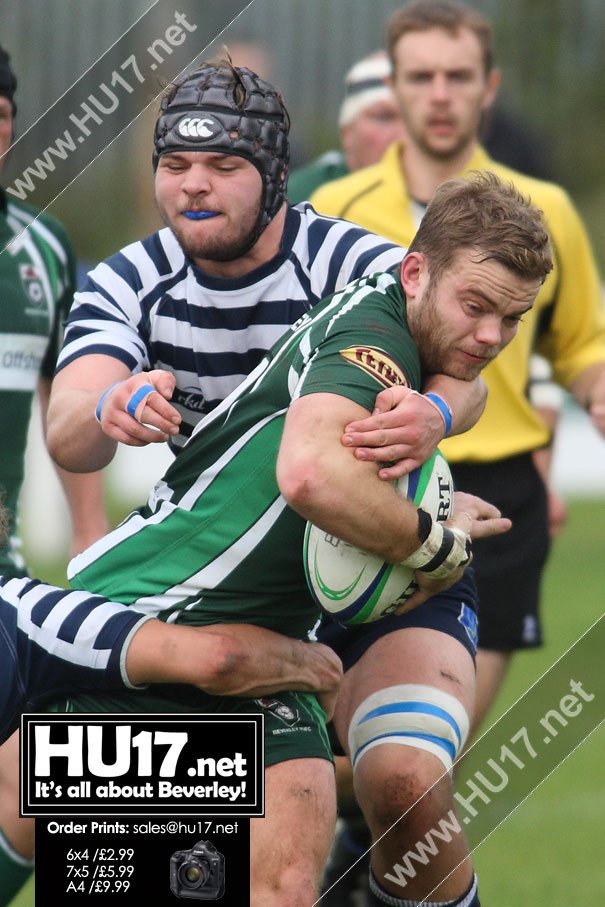 Not an afternoon of high quality rugby but a closely fought encounter with plenty to enjoy.
As in Beverley's game the previous week there was not really much between the sides and despite another defeat it was again an encouraging display. After their parlous situation at the start of the season Beverley are slowly getting it to together and are improving week by week. They now look like a side well able to compete even though there is still perhaps a need for strengthening in some positions.
Pocklington's game is generally based on a muscular set of forwards and this was no exception, although today they looked pretty meaty in the backs as well. As a result they were frequently able to make ground through powerful individual bursts from around the scrums. But Beverley tackled ferociously and the first half was an even struggle. At the break the final result could easily have gone either way.
Both sides had their chances in the first half but both defences were sound. Eventually a quarter of an hour before halftime Beverley got the breakthrough when Pocklington were penalised for diving into a ruck and Phil Duboulay kicked the penalty. For the first time this season Beverley turned round in the lead, albeit a narrow one.
The departure at halftime of their captain and pivotal fly half altered the whole complexion of the game for Beverley. They were never quite able to recapture their earlier fluency. Pocklington were quickly into the ascendancy at the start of the second half and took the lead after five minutes. Beverley missed a tackle down their left and when Pocklington moved the ball across field number eight Jack Holbrough cut through to touch down for a try which scrum half Nathan Saltmer converted. Two minutes later Saltmer added a penalty to take it to 10-3 and the game immediately looked like slipping away from Beverley
Both sides were playing with plenty of ambition if not with a great deal of quality in their handling. A lovely scything break in midfield by Harrison Mayou sent wing James Graham over for a try and Beverley were right back in it. The conversion to level the scores would probably have been straightforward for Duboulay but Junior Tupai's kick went narrowly wide. Still, at10-8 it was again all to play for. Sadly Beverley infringed direct from the restart and Pocklington were immediately camped in the Beverley 22. The resulting pressure on the home line eventually told and wing Charlie Wilson went over in the corner to stretch the lead to 15-8.
Beverley strove hard to get back into the game but they had rather lost their shape after Duboulay's departure. However, Luke Hazell who had come on at halftime made some threatening runs from full back and there was still plenty of thrust in the midfield. Several times Beverley came close and Mayou was particularly unlucky when he hacked a loose ball upfield only to see the bounce take it away from him when he had a clear sight of the line.
In the later stages Pocklington marginally had the greater share of the play and they got the only further score. A miscued Beverley 22 drop-out rebounded directly off a loitering Pocklington forward which immediately put the Beverley line under pressure. Despite some stout Beverley tackling Pocklington got over for an unconverted try through flanker John Wood.
Beverley might have felt a bit unlucky today. The pack worked hard as a unit and the lineouts again went well. Alex McPeake and Rayno de Kock had excellent games at flanker and Jake Hart-Fisher made a noticeable impact when he came on. A win surely cannot now be far away. They could do with a bit more bulk in the forwards but the capacity to start turning out a more settled side would almost certainly make a major difference – after only six games Duboulay is now the only player to have started every match.
Final Score: Beverley RUFC 8 Pocklington RUFC 20 | Reported by John Nursey