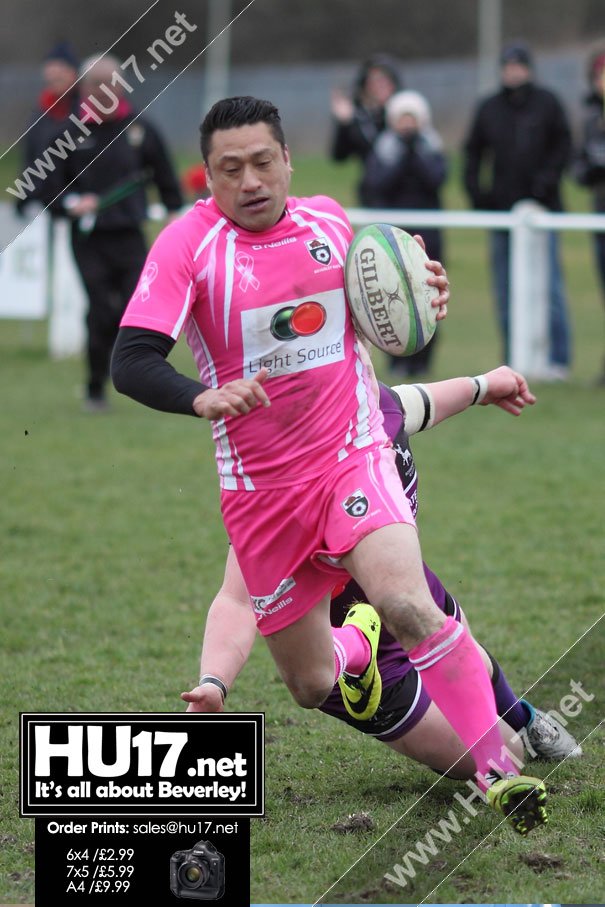 Not a lot here to cheer about. To commemorate the club's Ladies Day Beverley turned out in pink and unfortunately for most of the time they played accordingly.
A game which produced twelve tries might have been expected to have good entertainment value and so to some extent it did. But of Rossendale's eight tries most were handed to them on a plate. Rossendale ran hard and fast while Beverley's normally reliable tackling was largely absent today. Still, at least Beverley ended up with a four try bonus point which was something.
Rossendale kicked off with the stiff breeze behind them. Beverley very quickly conceded two penalties which Rossendale used to pressure the home line and full back Stephen Nutt crossed for the game's first try after only two minutes. Beverley could hardly get going but five minutes later their pack did make ground down the right and when the ball was moved left James Graham cut inside to score.
There was the hint of a promising upturn in Beverley's game with this score but they immediately pressed their first self-destruct button of the afternoon. The re-start kick was allowed to bounce and go on bouncing until it reached the Beverley line where Rossendale wing Anthony Bingham darted through to touch down. Nutt converted and Rossendale were 12-5 up after eight minutes. It was a giveaway try if ever there was one.
A nicely worked score down the left by Alex McPeake brought Beverley back into it but then sloppy defending again cost them. A poor clearance kick out of defence was fielded by Bingham on his ten metre line. Although he was tackled he was allowed to recover and sprint virtually unchallenged for sixty metres for a converted try. Ten minutes later he got over in the corner for his third and Rossendale's fourth. A penalty by Ryan Murray brought it to 13-24 at halftime, a situation which in itself did not look too conclusive but it scarcely reflected the difference in quality between the sides.
The third quarter was relatively even apart from a Nutt penalty but when a loose pass out from a Beverley scrum was not adequately dealt with Rossendale scrum half Jamie Albinson pounced to pick up and send prop Simon Walker over for another converted try. Beverley with ball in hand did have their moments but there seemed to be an over reliance on trying to open up the middle for Sam Atiola who often ran strongly but without any end product. None the less a nice interception by Junior Tupai forty metres out did bring a try for Beverley who then had a good spell in which they might have got back into the match.
Sadly three times the ball was not released when a certain try was on the cards and James McKay with a clear run-in lost the ball with no-one near him. With the forwards pressing hard Beverley won a scrum ten metres out, but Rossendale broke clear and went the length of the field for substitute wing Danny Harrison to cross for their sixth try.
Poor tackling let Albinson in for a seventh before Craig Hancock got over in the corner in the last minute for a fourth Beverley try. That was more or less it except that there was somehow still time for Bingham to cruise through some weak defending for an eighth Rossendale try to round things off.
All in all it was a rather disappointing day for Beverley but there was some consolation in the encouraging performance of their two young colts, Luke Hazell and Jake Marin. Hazell on the wing made some spirited runs in the first half before having to switch to full back. Marin when he came on again showed determination and a willingness to get involved. He acquitted himself well with some fearless tackling and coped courageously with the dangerous Bingham opposite him. Surely these two must now be given more opportunities in what is left of the season.
Final Score : Beverley RUFC 25  Rossendale 51 | Reported by John Nursey