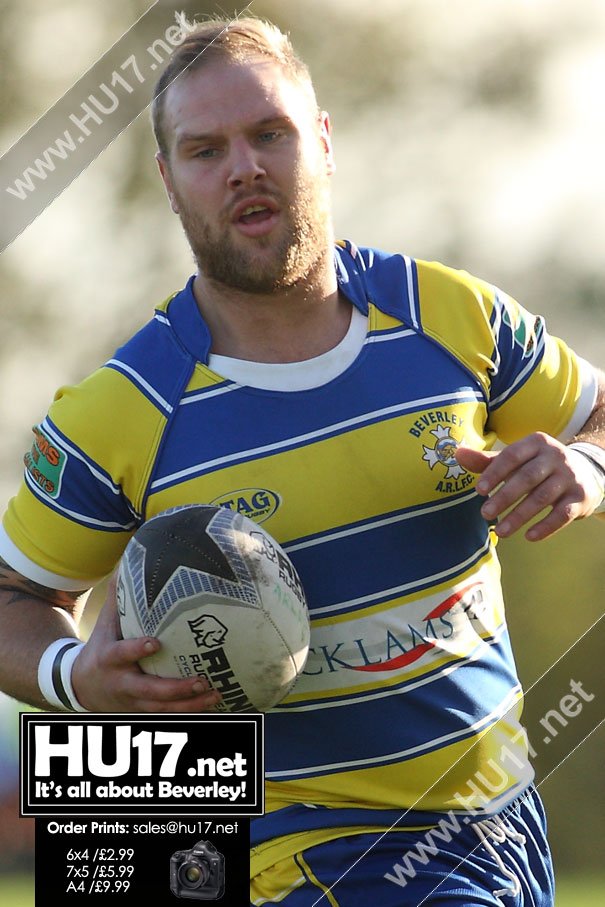 The blue and golds will commence 2015 contesting the Tom Beautiman Cup Final on this Saturday 3rd January against Hull Dockers 'A' . Coach Pat Howdle has just one niggling injury worry in the shape of Louis Hubbard.
Hubbard missed the last two matches before the Christmas break with a leg injury, however, the additional three weeks off for the festive season should do him a power of good. Howdle will give him a fitness test on the morning of the match and is confident of him pulling through.
Otherwise, Beverley are expected to keep faith with the players who have served them well so far this season. Glen Anfield and Lewis Poskitt should continue
to be the pivots in the half backs whilst Ben Calvert and Adam Robson should continue their centre partnership, which has yielded many tries this season.
Key figures in the forwards are likely to be Rich Etherington, who is enjoying possibly his best ever season at prop with club stalwart Lee Stevens likely to to be the other starting prop. A lot of strike power is likely to be provided in the back row by student tourist Jack Howdle and also points machine Ryan Watkin forming the other second row.
Elsewhere the versatile Steve Connolly will be a crucial figure. He has been equally effective at full back, loose forward and full back this season adding to Howdle's selection headaches as Lee Falcus and Mike Cooper have also been very effective in the full back and hooking roles respectively.
Beverley's appearance in the final marks a season of on and off the field progress for the blue and golds. They sit at the top of GMB Hull & District Division One at the half way point in the season.
Chairman Graham Ostler commented;
"Everything seems to be coming up roses this season. We have a youthful side playing an exciting brand of rugby, and a team spirit and club atmosphere which we believe is the envy of amateur rugby league locally."
"Away from the field Ian Pollard has just organised our third annual sportsmans dinner at Lazzats which had 200 guests and had Jamie Peacock as the guest speaker."
"The proceeds from the event will go a long way towards running Beverley ARLFC for a year. Furthermore, during 2015 we hope to make an announcement regarding improved facilities for both the youth and open age."
"One way or another, the growing town of Beverley should be the place to play your rugby over the coming years."
Preparations will be meticulous for this match. The squad will enjoy a pre-match high-carbohydrate lunch before departing on the team bus. Supporters are welcomed on the bus which will depart from the Durham Ox at 12.30pm.
Travel is free of charge on a first come first served with a voluntary collection at the end. Kick off is 2pm at Haworth Park.