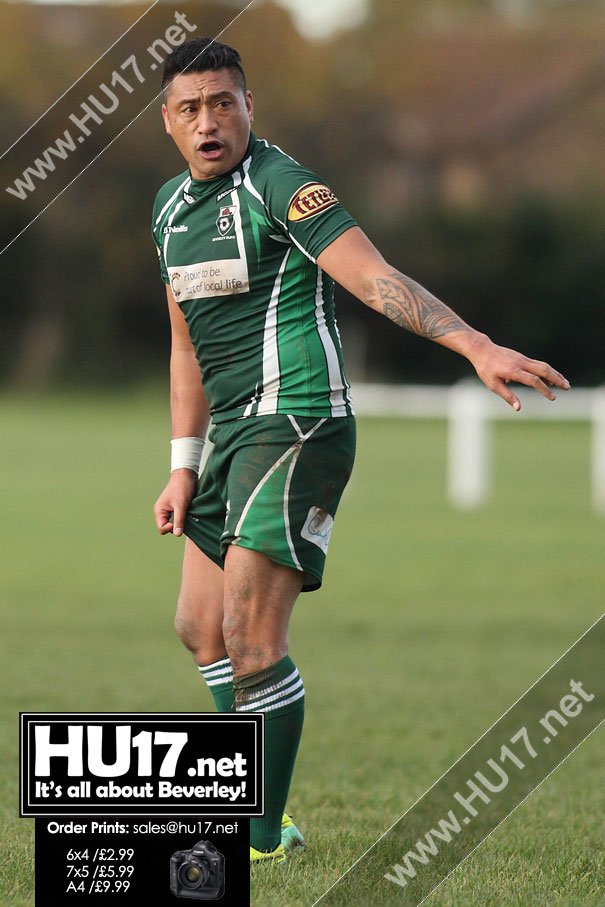 This was some match. Beverley came back from 40-6 down to get to within nine points of snatching victory. Given another few minutes they might easily have done it. Despite conceding forty points this was by far Beverley's best performance of the season. And certainly the most encouraging.
When the sides lined up it was clearly going to be a case of men against boys. Rossendale have a big, powerful, street-wise, and vastly experienced pack; they always do. The Beverley forwards in contrast were young, lightweight, and few had much experience at this level. Judging by the way it started the game looked like going accordingly. Ex Beverley lock Paddy Pole crashed over for a try in the fifth minute and Rossendale's lively winger Anthony Bingham quickly added another. Less than eight minutes gone and Rossendale were already 14-0 up.
But Beverley did not cave in and despite battling against the slope they came out fighting. Phil Duboulay kicked a couple of penalties to bring them back to 14-6. The young Beverley players were giving it a go and the powerful running Rossendale side were increasingly kept at bay. If Beverley could hold out until half time at 14-6 they would be reasonably happy given that they had the slope in their favour in the second half.
Rossendale always looked dangerous but Beverley were tackling heroically to keep them out. Sadly for Beverley two minutes from halftime Albinson went over after some prolonged pressure by the home pack. Then another try in the last minute of the half by flanker Alex Isherwood left Beverley disappointedly trailing 28-6 at the break.
It was now an uphill battle for Beverley and within five minutes of the restart it had got decidedly worse. Direct from the kickoff Albinson touched down for his second try and then George Peel almost immediately added another down the right. In an eight minute spell either side of halftime Rossendale had gone from 14-6 to 40-6, fly half James Bramhall kicking five conversions.
Beverley might easily have caved in but they didn't. They stuck to their game and Rossendale never scored again. Beverley attacked at every opportunity, they never lost a lineout all afternoon, and the young pack gave nothing away. As the half wore on the big home forwards increasingly found themselves driven backwards and were frequently forced to defend against some well co-ordinated Beverley drives.
Outside the scrum Beverley started turning it on with some scintillating handling. Mike Kilgannon went over for a try when the ball was quickly moved left from a lineout in the opposite corner and then Richard Bussey touched down following a clever switch in midfield. Duboulay converted and you felt that if Beverley could hang on at 40-18 they would have at least made a decent fist of it. But they were not done yet.
Now with their tails up they upped their game. Rossendale were reduced to 14 when number eight Ryan McGibbon was red-carded for an ugly tackle on Louis Starbuck but they still had more beef and muscle in their remaining seven forwards than Beverley had in their entire pack. Beverley simply went for them. A lovely break by Junior Tupai would have brought a try for Sam Atiola had his cross kick not bounced unkindly. But another Tupai break put him clean through for a third Beverley try and in the descending gloom Kris Renwick touched down to earn a four try bonus point.
Now only eight points in it. One more score would get them a second bonus point, two could bring victory, but time ran out. Still, against one of the league's most powerful sides this was an excellent team effort with bags of spirit. It is unfair perhaps to single out any individuals but Starbuck in particular had a fine game up front, as did Alex Ogilvie who led the pack superbly. Tupai and Duboulay marshalled the backs splendidly and Duboulay missed only one of his six kicks at goal.
Final Score : Rossendale 40  Beverley RUFC 32 | Reported by John Nursey