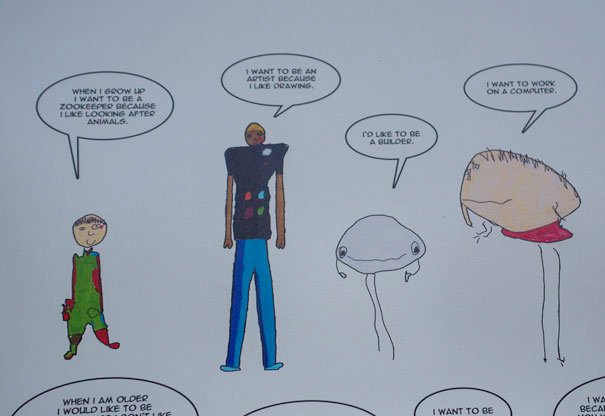 Three large street hoardings packed with local children's aspirations now decorate the border of the Flemingate Regeneration Scheme in Beverley.
Local residents can see the results of the 'Future Me' project, a collaborative venture between the Flemingate developers, the Wykeland Group, and St Nicholas Primary School, as the youngsters' artwork is exhibited for all to see.
All 330 pupils at the school have taken part. Starting with a workshop by artist Simon Crook and arts consultant Elaine Burke, the Achievements For All class learnt how to draw cartoon-style people, houses and more, while also being inspired to consider their future career options.
Children were then tasked with teaching every other year group how to draw, helping their fellow pupils think about what they would like their 'future me' to be.
Elaine said:
"This is a truly innovative project. The Wykeland Group has used art and culture in an imaginative way for young people. They have helped the school adjacent to the site become involved with the future of its town, and inspired the children to think more about their own futures."
"This project has been about looking forward, about the children, their future and all the possibilities. Future Me has grown confidence, taught a variety of skills and inspired the next generation. A real win win situation as we now have lovely artwork on display in the centre of town."
Donned in high vis jackets and hard hats, the Achievement For All pupils and their teachers visited the site to see their work on display at Armstrong Way.
Laura Watts, teacher and Flemingate Liaison, said:
"This is an amazing experience for the children, and to see their artwork on site and be part of the development is fantastic. They were so excited."
"Through this project, we have been able to find out what each child is thinking and feeling about their future. Our aim was to raise the children's aspirations, but we have seen such a vast improvement in their confidence, and it was great to see how they adapted to teach different age groups of their peers. It has really brought them out of themselves."
One pupil at St Nicholas, Tommy, aspires to be an artist and was excited to see his self-portrait displayed on the hoardings. He also gave a speech at an assembly of his peers and parents, overcoming his stage fright.
He said: "We had great fun with Simon, he was a real friend. He taught us how to draw lots of things, not just one. It feels really special to be part of this, made you think about what you want to be. Teaching the other pupils made me feel responsible and I really enjoyed it."
The children were quickly able to find each of their own artworks and look forward to showing family and friends. Guy Evans, Head of Development at Wykeland, joined the pupils on their visit and was impressed by the colour and aspirations on display.
He said:
"It's great to see the children's work. It has been six months putting this together and it's terrific to see the work on public display. Thank you to the pupils and their teachers for all their hard work."
The pupils of St Nicholas will be visiting the site again over the course of the development and will remain involved in the regeneration of their town.