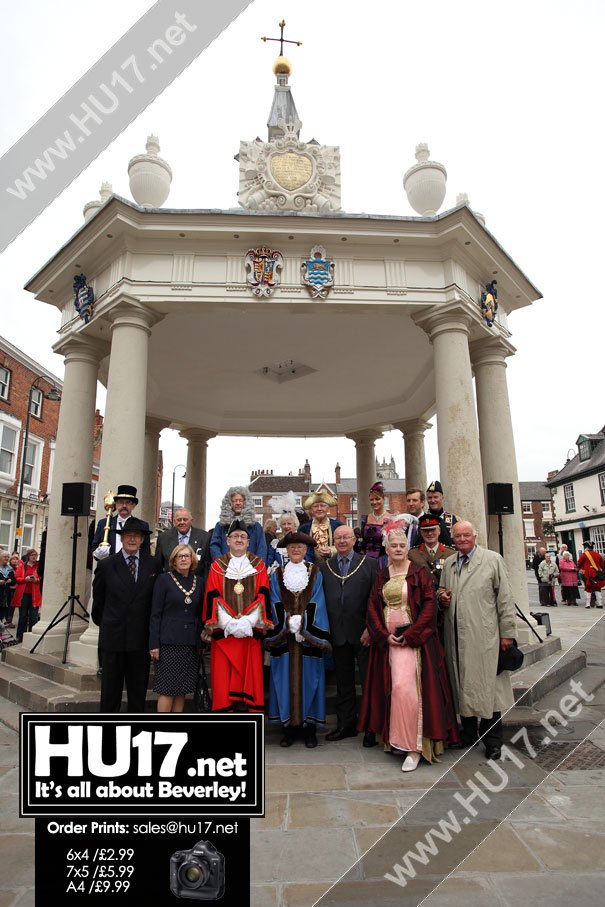 Sunday saw the Beverley Georgian Festival come to a brilliant end.
Mid-morning the Arbeau troupe in full 18th cent. costumes began to dance beside the Market Cross. Soon they were joined by a detachment of John Lambton's 68th Foot, redcoat soldiers with muskets and swords.
There were short speeches: the accession of George I was proclaimed from the Market Cross by Peter Nendick, Beverley's mace-bearer, in the presence within the Cross of the Vice Lord Lieutenant, the Chairman of ERYC, the Mayor of Beverley, the Deputy Mayor, William Hotham and his family, Mr Tom Martin DL, Beverley councillors and others.
Cllr Margaret Pinder spoke of the completion of the Cross in 1714 and its funding by Sir Charles Hotham, and invited William Hotham to cut the cake-of-a-thousand-pieces made by Cllr. Mathieson.
The 68th Foot fired 3 volleys making an astounding loud noise. 'Our revels now are ended' was spoken by Cllr Pinder, the last speech in The Tempest, used to mark the end of the nine day festival. She then read the Riot Act of 1714 inviting the crowd of several hundreds to disperse (which they seemed reluctant to do).
While two churches rang a peal of bells, the cake was all eaten. The soldiers gave 'the King's shilling' to children, which in the 18th century was the way soldiers could be recruited (once they had taken the money, they were bound to the Army).
On a day of sun and cloud, the Festival ended, with everyone saying 'what shall we do next year?'