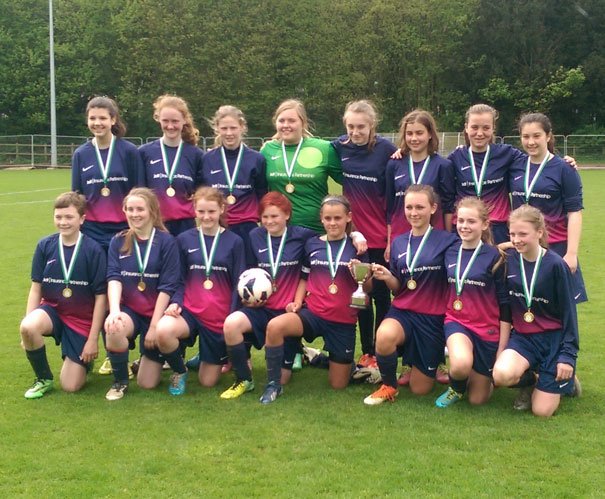 Mill Lane United Blues went into Saturday's League Cup final with the league title, County Futsal and East Riding County Cups already won and with a season-long unbeaten record to protect.
With an unexpected break in torrential rain, the sun came out over a fantastic playing surface at Bishop Burton, as the Mill Lane side lined up against a Hessle Town side that have improved throughout the season, and were definitely there to compete for the trophy.
Mill Lane started the game with some of the best football played all season, putting Hessle on the back foot right from kick off. With Mill Lane dominating the battle for possession, it was Hannah Winter that finally made the pressure tell when, with her back to the goal, the cross came in from the right and was finished with a superb overhead kick that rippled the back of the Hessle net.
1-0 up and playing with quality and confidence, many thought that Mill Lane would continue to dominate but Hessle had other ideas. Hessle showed true grit to hold off Mill Lane and made two or three threatening attacks of their own. The half time whistle brought to an end a tight, thrilling first half that left the tie delicately balanced and tee'd up an enticing second half.
The second half saw much the same pattern of play as the first. This time Mill Lanes early goal came from a sensational driving finish from the left foot of Natalie Bell, giving the in-form Hessle goal keeper no chance. The goal brought Nat's season tally to an unbeatable 38, a well-deserved prize for a superb performance throughout the campaign.
The remainder of the game saw chances at both ends, each thwarted by superb performances by the defensive back lines of both sides. On several occasions Mill Lane keeper Leah Shalgosky was spared being called into action by the outstanding centre back Skie Wyatt, who deservedly won Player of the Match, decided by both managers on the day.
At the final whistle Mill Lane could finally celebrate an unbeaten season, lifting the League Cup to complete the East Riding Girls Football League treble along with the East Riding Futsal Cup.