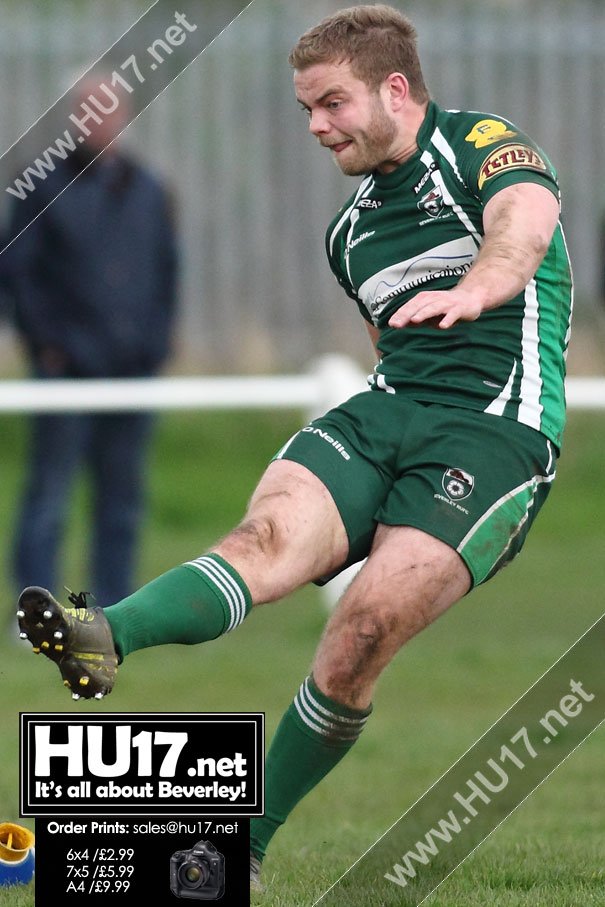 A carefree romp with eighty six points brought the curtain down on another season at Beaver Park. Neither side had anything at stake here and both threw the ball about with abandon. In the end Beverley cruised home with plenty to spare but it had been an evenly fought contest in which Morley probably had the greater territorial possession. The difference was in the finishing. Beverley always looked the sharper and invariably took their chances. They scored eight tries and Phil Duboulay successfully slotted all eight conversions and a penalty.
For twenty minutes it was all Morley. They led through a try by Ollie Flegg which was converted by Mark Chester and might have had more had they made better use of long spells camped on the home line. Beverley got on terms with almost their first serious attack when Tomasi Tanumi threaded his way through the defence from halfway for a try. A Duboulay penalty then edged Beverley into the lead and after that they never looked back.
Tries by James Holland and Junior Tupai took Beverley to 24-10 at the interval, Chester having kept Morley in touch with a penalty. At that stage it was still anybody's game but within three minutes of the start of the second half it was as good as all over. Tupai went over for a fourth try almost direct from the restart and Robbie Davidson immediately added a fifth with a seventy metre sprint down the touchline.
Morley responded with plenty of ambition but they were struggling to contain Tupai and Tanumi in the Beverley centre and had their work cut out keeping the home side at bay. None the less two tries, one converted, just about kept them in the game and a late one by wing Koby Kyasi gave them a deserved four try bonus point. But it was Beverley's day. The outstanding Holland crossed for a sixth home try and he then set up one for James Munro which took Beverley over the fifty point mark. Five minutes from time a clever touch by Tanumi sent Goran Jelencic racing in from halfway to round off an entertaining game. Not surprisingly the pattern of results between these two clubs had been maintained – neither ever winning at the other's ground.
So another season draws to a close. On the whole it has been a good one for Beverley RUFC who will be satisfied to have finished in fifth place. They probably had more than their fair share of injuries along the way with Jelencic, Lee Birch, and James McKay all absent for long spells. But all who have worn the green shirt this year appear to have done so with pride and it has been a splendid team effort.
They owe much to their pack who have regularly outplayed their opponents and more often than not punched above their weight. In Holland, Pickets and Buzov they probably had the best back row in the division, ably backed up by Tony Riby-French. The front five have proved a formidable unit with young players like Alex Ogilvie, Stuart Nel, Paul Steadman, and Aaron Carroll all growing in stature as the season progressed.
After an indifferent start Duboulay at fly half was again the linchpin in the side. Never flashy but totally efficient he has controlled games admirably and brought out the best in the likes of the strong running Tupai, Tanumi, and Richard Bussey outside him. The arrival late on of Munro at scrum-half was a godsend.
All in all it has been an enjoyable and good year for players and supporters alike. To finish fifth is commendable although there remains a lingering feeling that in quality this was potentially a top three or four placed side. Had several games not been carelessly thrown away early in the season it might well have been one challenging for promotion. However for a first season back in National League Three departing head coach Anthony Posa can justly feel proud of the year's work.
Final Score: Beverley RUFC 59 Morley 27 | Reported by John Nursey