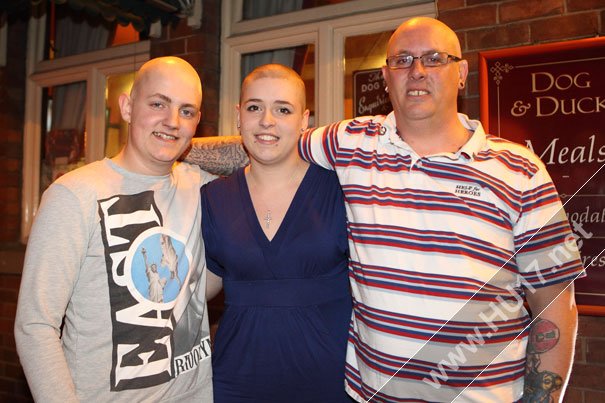 Dog and Duck regulars, Kayleigh Duell, Stuart Kilgannon and Daniel Earles have had their heads shaved to raise money for a good cause.
The trio had their hair cut off in front of packed Beverley Pub to raise money Amy Woollock who has Hodgkin's Lymphoma, and the charity Teenage Cancer Trust.
Stylists Dannii Hawkes, Sue Graham and Ashley Gregory from The Hair Lounge on Highgate ensured all three left the pub without a hair on their head!
Kayleigh said;
"I am gonna need to sort my eyebrows out now that its the only hair I have on my head haha!"
Sam Greenwood said;
"We are raising money so Amy can follow her dreams and make more memories with her family."
"We are sharing the money with Teenage Cancer Trust because the charity is helping Amy through the cancer."
"We decided to do the raising and heads shave at Dog and Duck because it is our local pub and we know that Mark McMullen does a lot of work for charity."
After the event Amy posted on Facebook;
"Shedding tears at the picture, so beautiful. Can't believe my friend has shaved her head and raised money for me, so much respect and a brave girl! It means the world to me! Thank you so much to you, your family and friends"