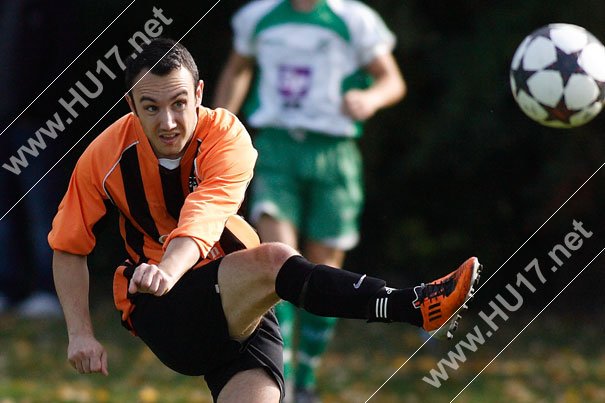 Hodgsons FC drew for the second week running as they were held at home by North Ferriby United.
The sides shared eight goals. Daniel Atkinson scored three with Mike Claxton chipping in with a single strike to earn the Tanners a valuable East Riding County League point.
North Ferriby opened the scoring early on though the Tanners fought back to take a 4-2 lead in the match though were eventually pegged back as the game finished 4-4.
Hat trick hero Atkinson told HU17.net;
"We played well just made a few errors but overall was a good performance."
Singling out his third goal as his favourite Atkinson complimented Claxton's input into the goal he said;
"The last one I scored the finish wasn't great, but it was made quality by Claxton's good work down the left and cutting it back to pick me out for a close-range header!"
Atkinson did not complete the full 90 minutes, but the fox in the box insists he wanted to come off, he said;
"I was taken off yes. I have a few health problems so need to take it as steady as possible, for now!"
Next weekend, the Tanners face unbeaten Eastern Raiders that are the league's second top scorers.
Final Score: Hodgsons FC 4 North Ferriby United Academy 4
Other Results:
Eastern Raiders 2 – 2 Leven Members Club
Haltemprice 0 – 6 Hall Road Rangers Reserves