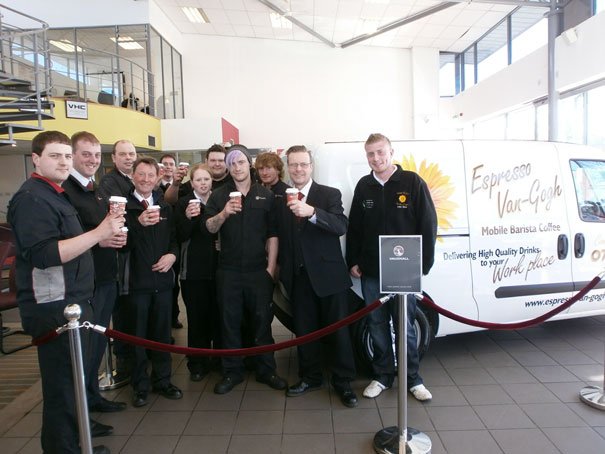 Local Vauxhall dealer, Evans Halshaw in Beverley, is delighted to announce it is helping the local community with the sponsorship of a new business venture.
The retailer on Swinemoor Lane is helping valued customer, Peter Shields, turn his dream into reality by supplying a Vauxhall Combo for his new mobile coffee business, 'Espresso Van-Gogh'.
Peter Shields, 25 from Bridlington, comments: "I'd just like to say a huge thank you to the team at Evans Halshaw in Beverley for their help and support in setting up my new business. The Vauxhall Combo the dealership has supplied is just what I needed to kick-start my new venture – the size of the van is absolutely perfect as I've been able to convert the van so I can fit my coffee machine easily in the back.
"My family and I have been big huge fans of Vauxhall for many years; I have recently just bought my own Vauxhall Astra and my parents have been buying their Vauxhall's from the dealership for a long time now, so I really can't thank the team enough for their help."
Aron Brown, Dealer Principal at Evans Halshaw in Beverley, adds: "We're always happy to support the local community in any way we can, so it gives me great pleasure to support Peter and his new business. I'd just like to wish Peter all the best from all of us at Evans Halshaw in his new venture."
To discover more about Vauxhall's vehicle range, please visit Evans Halshaw at Swinemoor Lane, Beverley HU17 0LJ. Alternatively, call 01482 862 801