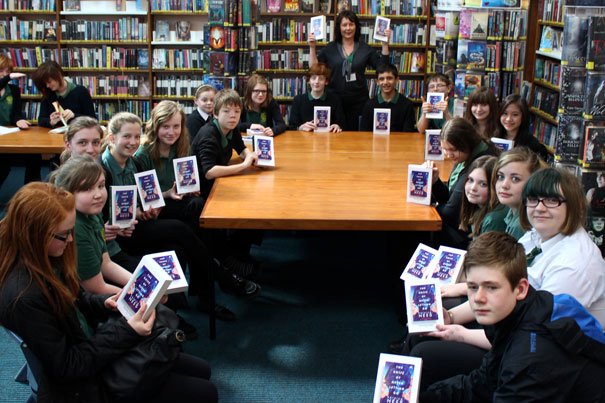 Students at Longcroft School, Beverley, marked World Book Night on April 23rd, with twenty lucky students receiving commemorative copies of a celebrated novel by the author Patrick Ness.
Deborah Marshall, Longcroft's Senior Librarian, was successful in a bid to participate in this event, which is celebrated in the UK, Ireland and USA. She explained:
"There is something special about people from around the world all celebrating books and reading as part of an annual event. Whether it is fantastical and romantic fiction, or factual books and study guides, reading unlocks the mind and gives young people access to new worlds and new ideas."
"With the advent of e-readers and mobile phone technology there are many different ways books can now be accessed, but a special part of World Book Night is giving out traditionally published, paper-based books."
The twenty students, aged between 11 and 17, where given the books to encourage reading throughout the school.
They were presented with copies of 'The Knife of Never Letting Go' by Patrick Ness, who has won the prestigious Carnegie Medal for Children's Literature on two consecutive occasions.
Aphie Harrison (16), is a devoted reader. She said: "It was a privilege to be selected by Mrs Marshall to receive this book. I love reading, especially the way you can escape into other worlds. Patrick Ness is a fantastic author and I really enjoy his work – I would recommend him to anyone who loves a cleverly written fantasy."
Tommy Lawson (13) was also pleased to be involved: "I love reading – different books give me different inspirations for my own creative writing. I really want to be an author when I'm older and it's really nice to be chosen to take part in World Book Night."
As details on the World Book Night website, the event "is a celebration of reading and books which sees tens of thousands of passionate volunteers gift specially chosen and printed books in their communities to share their love of reading… World Book Night is about giving books and encouraging reading in those who don't regularly do so. But it is also about more than that: it's about people, communities and connections, about reaching out to others and touching lives in the simplest of ways, through the sharing of stories."
Mrs Marshall concluded: "We're lucky to have two very well stocked libraries at Longcroft School, along with Kindles and other resources. Whilst they are places of study, we also keep them friendly and vibrant to ensure ever student has the opportunity to access a wide range of genres and take a life-long interest in reading."