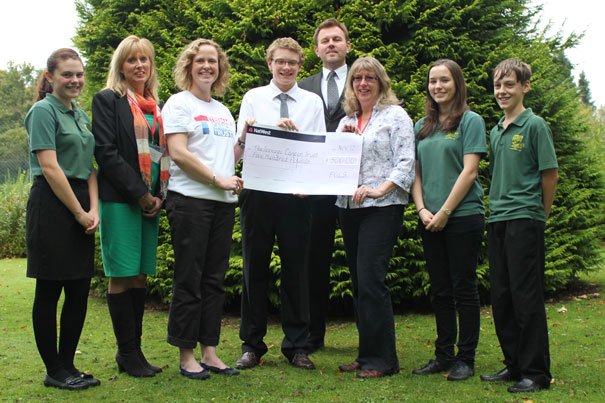 The Friends of Longcroft School (FOLS) have presented Teenage Cancer Trust with a cheque for £500. Through a series of events held at the school, FOLS worked with students to raise both awareness of Teenage Cancer Trust's work and vital funds to support their important work.
Sheenagh Rollison, who recently stepped down after five years as FOLS chairperson, explained: "Although the main purpose of FOLS is raise money to support the school, we also think it's important to support other organisations that make an incredible contribution to the lives of young people, such as Teenage Cancer Trust. The cheque we presented
comes from money raised at our successful Sparkling Pink Night and through a non-school uniform day, at which students were encouraged to wear something pink to support the charity."
Teenage Cancer Trust is the only UK charity dedicated to improving the quality of life and chances of survival for the six young people aged between 13 and 24 diagnosed with cancer every day. They build specialist units within NHS hospitals bringing young people together to be treated by teenage cancer experts in a place designed just for them. Their aim to enable every young person with cancer to have access to this specialist support, no matter where they live.
Abigail Batchelor, the Teenage Cancer Trust's Regional Fundraiser for the Yorkshire and Humber, said she was delighted by the support shown by FOLS and Longcroft School: "On behalf of the charity, I would like to thank everyone at Longcroft for their support and generosity. Traditionally treated alongside children or elderly patients at the end of their lives, young people can feel extremely isolated during treatment, some never meeting another young person with cancer. Being treated alongside others their own age can make a huge difference to their whole experience. There are currently 22 Teenage Cancer Trust units across the country, including one at Castle Hill Hospital in Hull."
Jonathan Chapman, Assistant Headteacher, added: "The Friends of Longcroft School have done a fantastic job of getting students enthusiastic about raising money for charity. Sadly, one of the realities in life is that many young people, either directly or indirectly, will be affected by cancer, which is why we felt it was important to not just support the charity, but also provide information about its work through assemblies. I'm very proud that our students have been so generous and caring and thank both FOLS and Teenage Cancer Trust for all their hard work."