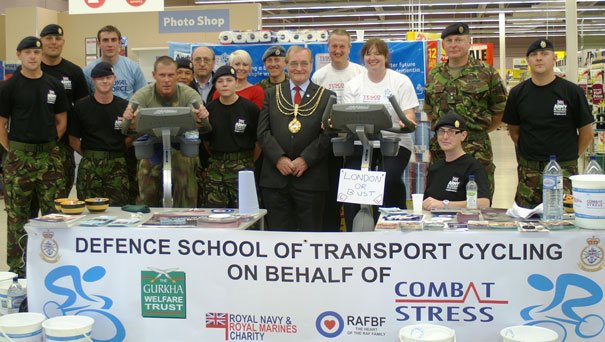 Military volunteers from the Defence School of Transport gave up their spare time to compete in a 12 hour Cyclothon against staff from the Tesco Store, Beverley on Saturday 17 September 2011.
The event was supported and visited by, Mayor of Beverley, Peter Astell, Vice Chairman of East Riding of Yorkshire Council, Councillor Chad Chadwick and his Lady, Councillor Margaret Chadwick, Councillor David Elvidge, Councillor Kerri Harold, Councillor Dominic Peacock, Councillor Elaine Aird, Councillor Irene Charis and Councillor Bryan Pearson.
MP for Beverley & Holderness, Graham Stuart also spent 30 minutes cycling with the DST team to help raise funds for services charities.  Mr Stuart said "It was great to see Soldiers, Airman, Royal Marines and Gurkha's all in the heart of our local community, putting smiles on peoples faces and working hard to raise money for such fantastic charities.  Tesco gave up the front of their store and put up a big team and also deserve our thanks.  Organisers from both The Defence School of Transport and Tesco did a fantastic Job."
DST cycled an incredible 425.02 Kilometres with Tesco managing a very honourable 349.76 Kilometres during the 12 hour competition.
In hard times shoppers dug deep into their pockets and the competition raised £1,649.52.  Monies raised will be donated to the following charities: Alzheimer's Society, Royal Navy & Royal Marines Charity, RAF Benevolent Fund, Gurkha Welfare Trust and Combat Stress.