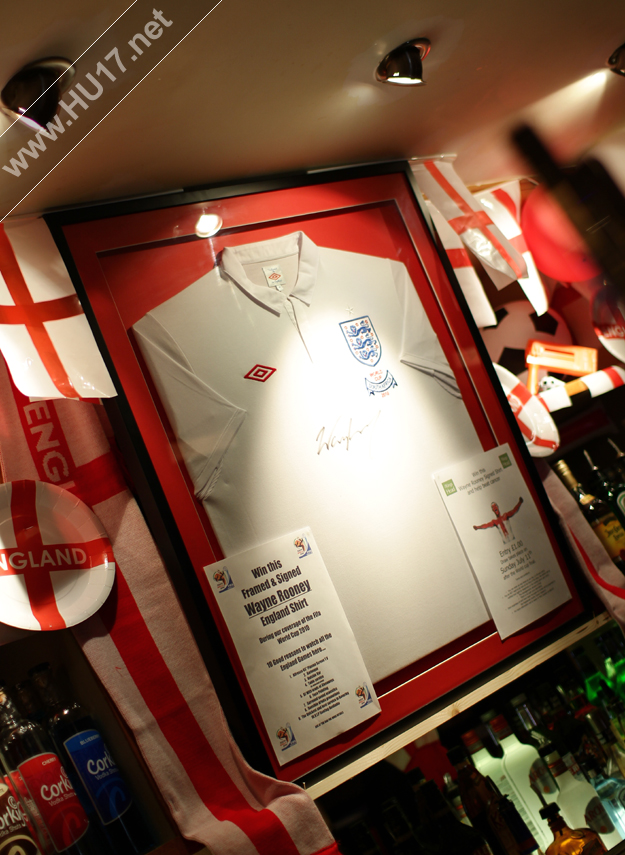 Beverley pub The Kings Head is giving excited World Cup fans the chance to win a signed Wayne Rooney England shirt – and help the fight against cancer at the same time.
As the countdown to South Africa 2010 begins in earnest, the popular bar, in Beverley's bustling and lively Saturday Market, is gearing up to a World Cup summer aimed at providing maximum joy to the town's football fans.
Fans will be able to watch all England's games in the beer garden, courtesy of a huge 65 inch plasma TV, with table service available and a barbecue on the go. They also plan 'sensible' drinks promotions and a secure and enjoyable environment.
But at the heart of it all is the chance to win the signed Rooney shirt. England's great hope, an in-form Rooney is the country's biggest chance of securing World Cup success.
It costs £1 to enter the draw for the shirt, and as you will leave your name and address, you don't need to be there on the night of the draw, which will be held after the World Cup final – hopefully after Rooney has scored the winner.
The main aim of the draw, though, is to raise money for Cancer Research, and one the cost of purchasing the shirt is met, all other money raised will go to one of the finest and most important charities in the UK.
For more details of what the Kings Head has to offer, and the Wayne Rooney draw, drop in at the lively Saturday Market pub.
* Let us know what you are planning for the World Cup. Got a huge gathering planned? Your pub got special offers, barbecues, etc?