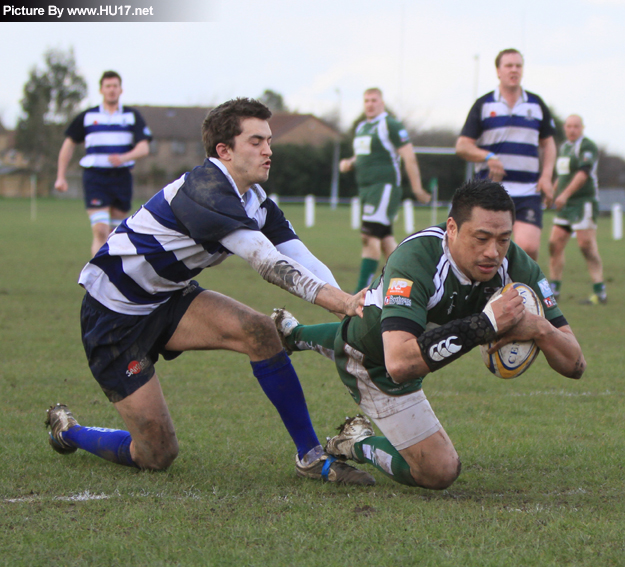 Plenty of good rugby but overall a strange game.  For Beverley RUFC it was a curate's egg performance – good and bad in about equal measure.  For twenty five minutes they played some cracking stuff, were leading 17-5, and looked as though they would romp away with it.  Then unaccountably it all went wrong and after that, apart from the last ten minutes, all the good rugby came from Darlington who deservedly ended up comfortable winners.
A lovely break and dummy by David Worrall after seven minutes sent Mike Kilgannon clear to the line for an opening try and ten minutes later slick handling across the backs brought a try in the opposite corner for Goran Jelencic.  Phil Duboulay kicked both conversions and then added a penalty from thirty metres out when Darlington went into the side of a ruck.  Darlington at this stage could get little possession but in a rare attack did manage a try in the corner from winger Matt Lister.  Beverley RUFC were playing perhaps as well as at any time this season, getting plenty of good ball and moving it about crisply.
Phil Dale and Duboulay were combining well at halfback and the pack was in total control with Danny Brown Mark Hatfield and Matthew Adams all putting themselves about effectively in the loose, along with Worrall who was as usual immense in leading from the front.  Junior Tupai was pulling all the strings at inside centre.
A comfortable victory looked to be there for the taking.  But old habits die hard.  Inexplicably they suddenly started kicking aimlessly upfield and immediately the game was turned on its head.  A loose kick straight into the arms of the full back promptly cost them a second try in the corner by Lister to bring it to 17-10.
With Beverley RUFC ill discipline is never far away and fly half Sam Errington with two easy penalties then reduced their lead to a single point.  Beverley RUFC's game had suddenly fallen apart as Darlington started to play with increasing confidence.  Goran Jelencic was yellow carded for an illegal tackle and James McKay also went to the sin bin for a shoulder charge, leaving Beverley RUFC to end the half with thirteen players.
The second half was hardly under way before Beverley RUFC were caught offside and their slender lead had disappeared when Errington's fine penalty kick put Darlington 19-17 ahead.  Beverley RUFC were hampered in the lineout all through the second half by the loss of Gavin Gibson and gradually they began to struggle against the powerful Darlington forwards.
For long stretches they could hardly get their hands on the ball as the Darlington pack pounded forward relentlessly.  But after being pinned in their own half for a quarter of an hour Beverley RUFC suddenly broke out and totally against the run of play regained the lead when Tupai scythed his way through for a fine solo try which Duboulay converted.
Within a minute they had once again infringed at a ruck leaving Errington to slot his fourth successful penalty.  Twenty minutes left and Beverley RUFC were desperately hanging on to their two point lead.  Two converted tries from centres Robin Etough and Dean Kelbrick in the space of two minutes again turned it round for Darlington and realistically it was all over for Beverley RUFC.  Yet they raised their game again superbly in the final stages and ended the match with the same dominance as they had started it.
Unfortunately for them it was too great a mountain to climb and they were unable to make any inroads into the deficit.  Quite why they had collapsed so alarmingly and thrown the game away after such an excellent opening quarter remained something of a mystery, especially considering how strongly they came back again at the end when sadly it was too late.
Final score, Beverley RUFC 24 Darlington Mowden Park 36
HU17.net Picture Gallery: Click on the thumbnail picture below to enlarge the image to full size
HU17.net Picture Gallery: Click on the thumbnail picture below to enlarge the image to full size