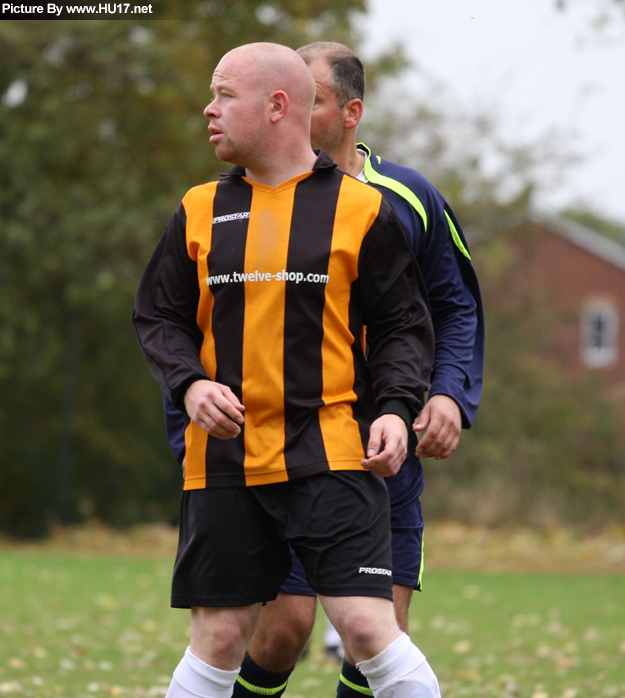 Hodgsons FC threw many chances away in this tricky away fixture at Holme Rovers.
Slightly under strength with Ben Daniels, Chris Heath and Jolly Thorne all missing, it meant a re-shuffle in the team line-up. Scott-Jon Tyler stepped in at centre half with John Helyard and Jordan Dexter getting a start, Hodgsons FC also welcomed back full back Chris Robinson.
On a rather wide pitch The Tanners gradually chipped away at the opposition, and in driving rain created few clear cut chances. Danny Cartwright was applying himself down the right hand side, whilst Steve Grantham continued pressing down the left, using the width gradually.
It was Jordan Dexter who broke the deadlock putting the ball into the net from close range. Hodgsons FC continued to apply pressure limiting Holme Rovers to long range efforts, one of which just flew over the bar.
An equaliser came right on the stroke of half-time. As a corner was taken, full back Robinson was adjudged to have pushed a Holme player in the back. There were no complaints from the away side, and the penalty was dually dispatched.
The second half saw Hodgsons FC create far better chances. Adam Foster came close with swerving free-kick that just flew wide of the up-right, and Scott-Jon Tyler thought his shot had clearly crossed the line, the referee had a different opinion to Tylers and waved play on.
Hodgsons FC almost scored a few minutes later, and again it was Foster involved. After a shot hit the Holme Rovers cross bar, Foster headed the rebound straight at the keeper.
As full time was nearing, it looked very much like the game was going to finish 1-1, however there was to be some late drama. With a minute to go, Hodgsons FC took the lead through captain marvel Paul Silvester. It surely looked like maximum points would heading back to Beverley. But there was to be a final twist in the game and a cruel one it was.
An attack down the Hodgsons FC right hand side looked harmless enough. Substitute winger Stew Scott tried taking control of the situation in the corner but unfortunately came out second best, the result of which was a cross into the box and free header at goal.
Seconds later the referee blew his whistle giving a final score of 2-2. This could be a defining moment in Hodgsons FC season. The pressure is now on to win these games in hand which could take the club top of the league. Whilst alarm bells are not sounding yet, it must be noted that the battle for the title has only just begun.
Next up for Hodgsons FC are local rivals Beverley Town Reserves.
Chairmans Man of the Match – Scott-Jon Tyler, who although playing out of his natural position, had a very mature game.