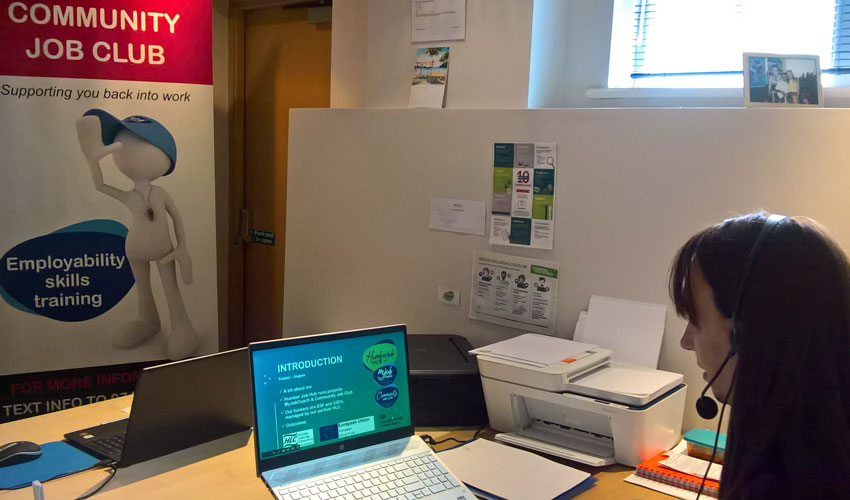 Humber Job Hub CIC was established in 2018 by Angela Harraway Cert REC FIRP and Fellow Member of the Institute of Recruitment Professionals who have over 20 years of experience working in the recruitment sector supporting employers and job hunters across all industries.
Having watched recruitment methods change in response to emerging online recruitment platforms, she recognised a growing need to help people facing unemployment or those already out of work to develop the skills they need to compete effectively in the job market.
Angela identified that whole sections of society had never produced a CV, had to apply for a job or attend interviews and, on facing unemployment and starting a job search, they simply had no idea where to begin or who they could turn to for practical help and advice.
This included lone parents or carers returning to the workplace, ethnic minorities, younger people leaving education, people in insecure or zero-hour contracts and older people, including those over 50 who are in a difficult bracket in which they are too young to claim their pension but may be considered too old or experienced for many jobs. Humber Job Hub CIC was established to change this.
Humber Job Hub CIC helps people get back to work by providing a range of services, tailored to every individual's needs. Our free, unique and friendly services include:
· Group or individual workshops covering CV and letter writing, job search techniques including job boards and application forms, interview preparation and interview techniques
· Confidence and personal development workshops

·Individual personal advice and support to explore skill sets and how these might translate into a new career path or self-employment

· Information on local volunteering opportunities or training to help people gain skills they may be lacking for their next career step

· Networking and expanding of social interaction to reduce feelings of isolation

· When the pandemic hit, we developed new ways of working which mean we can help more people remotely, a huge advantage for people living in remote areas of the East Riding

· We are also able to meet in-person as well now, so offering options in the way people interact with us
Since starting on this journey in 2018, we have worked with over 150 people across the Hull and East Riding of Yorkshire area, and proudly report a success rate of over 77% of our members securing a long-term job or going back to education to retrain for a future job in a growth industry. 100% of our members also report that they feel more confident and better equipped to find and apply for the jobs they want as a result of engaging with our service.
People access our services through a range of options, but we operate an open referral process and are available to anyone needing help. For example, there are a number of employability services open to the unemployed under 30s but Humber Job Hub CIC is able to help anyone of any age or employment status, free of charge.
Since our project started, we have noticed an increase in people struggling with their mental health, isolation, depression and anxiety, due to being out of work. Our aim is to help people before they get to that stage, although our team do also have Mental Health Awareness and First Aid training to deal with such conditions.
Our groups bring people together who are in similar circumstances so they can support each other with a common goal. Although a number of our members report feeling daunted or nervous about joining the groups initially they all very quickly feel comfortable and able to fully participate, which in turn builds confidence and breaks down feelings of loneliness or isolation.
Many of our members tell us that they learn about useful techniques/tips that they had never considered previously and start to quickly think differently and more positively about their situation and how to improve their chances of finding the work they want.
One recent member, recommended to us by a previous service user, had been made redundant from a Quality Assurance role he had held for over 10 years. He had never been out of work and made a common mistake of applying for anything and everything but getting nowhere. We were able to establish what type of work he enjoyed and all the skills he had to offer. We created him a relevant, targeted CV and helped with how to look for the type of work he wanted, as well as interview preparation as he had not had any interviews for a very long time. He also found a job that gave him everything he wanted. From his initial contact in March 2021, he started his new position in early July. Of our service, he said "Angela was great, very helpful and didn't come across as seeing me as just another person looking for work. I felt like she was investing her time and efforts into me personally and listened to everything I said and came up with valid points in return that helped me reset my mind. Not being so focused on a single line of work but actually to appreciate the skills I have and consider how they could be transferable to other roles and industries was really helpful."
A single mum with very little self-confidence asked us for help with her CV as she was wanting to get back into work after a career break. We helped her identify her many excellent and transferrable skills as she wanted to work in education, ideally around school hours. We reviewed the CV she had created for her by an organisation she had trusted to do their best for her which we found to be littered with errors and updated it accordingly. After applying for one job (that she thought was probably too good to be true as it seemed so perfect), she was invited for an interview straight away and was offered the job at second interview ready to start in September. If only it happened like that for everyone!
Another member recently contacted us because they were struggling to find work in biomedical science, a field that they were both qualified for and experienced in but had felt under pressure to take a position as a Carer to make ends meet. English was not their first language as they had come to the UK as a migrant student and they had been advised by a recruitment agency to look for work outside of their area of interest, education and expertise. We quickly identified some very common errors on their CV and created a new one that represented what they wanted to do and the relevant skills they had. With a little work, we were able to help them identify better ways of looking for work and improve their interview techniques. From his first contact with us in June, he secured a job in a laboratory before the end of July. Of our service, he said, "What worked for me was getting to speak to a professional who has been in recruitment for many years – they gave me hope."
A young lady had been struggling with her mental health, exacerbated by the fact she couldn't find work. She was desperate to work outdoors, ideally with animals and the general public, but was willing to do anything in the meantime. While we got her CV updated to target the type of work she really wanted and got her job-ready during the Job Club, she found full-time work cleaning a Covid-test centre.
Although it was long hours, she was happy to get back into the routine of working and interacting with people regularly. All of this and a bit of extra support from the team gave her the confidence to apply for a couple of Park Ranger roles, which she described as her dream job. All her efforts paid off and that is exactly what she is doing now. Of our service, she said "Very good service, the best around. The team is very clever and wise, giving tools and support for people to help themselves. Cracking advice and support. The team really care and it shows."