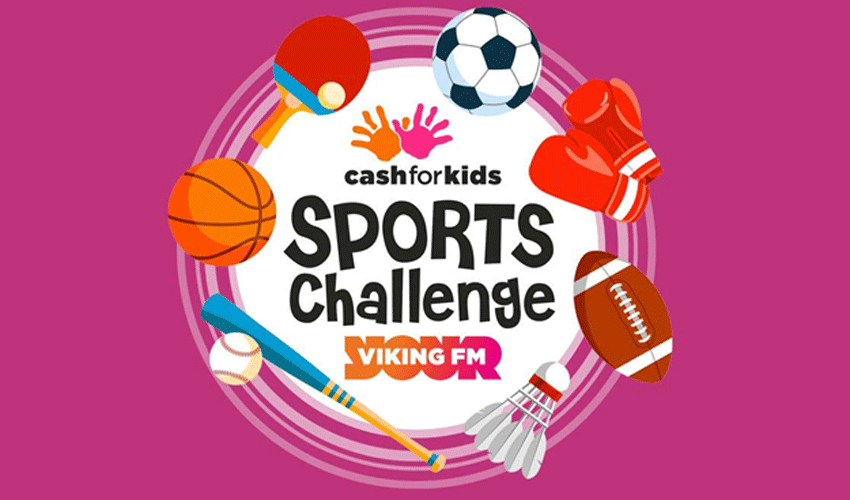 After its 2019 success, Viking FM's Cash for Kids is excited to bring the Charity Sports Challenge back to the local region. Its goal is to help local grassroots junior sports clubs in need of funding.
Cash for Kids is looking for local grassroots junior sports clubs to sign up and take part in a competition giving them the chance to win a cash grant of up to £5,000.
Each participating group will be encouraged to raise as much money as possible to fund new equipment, new kit, updating facilities and recruiting new members.
Cash for Kids will then match fund the club which raises the most by up to £5,000, with second and third places taking a match of up to £2,000 and £1,000 respectively. All clubs will receive every penny they have raised back.
Clubs that are helping disabled and disadvantaged children, including children on low incomes or from deprived areas, are encouraged to apply.
Favourable consideration will be given to those projects which directly benefit a large number of children and/or positively increase the quality of their lives. Previous projects have funded kits, equipment and helped subsidise costs for children living in poverty.
Cash for Kids Charity Manager Kathryn Biggin explains;
"After 2019's success, we are so excited to be bringing the Sports Challenge back this year to local teams in East Yorkshire and Northern Lincolnshire."
"In 2019 the Sports Challenge granted back over £66,000 into the local community which is an amazing testament to the clubs that participated."
"Not only will the campaign inject thousands of pounds into the local sports community to improve sporting opportunities for children, but teams will also learn new skills which will help ensure sustainability going forward."
For more information and to apply to take part in the Cash for Kids Charity Sports Challenge please visit www.vikingfm.co.uk/cashforkids