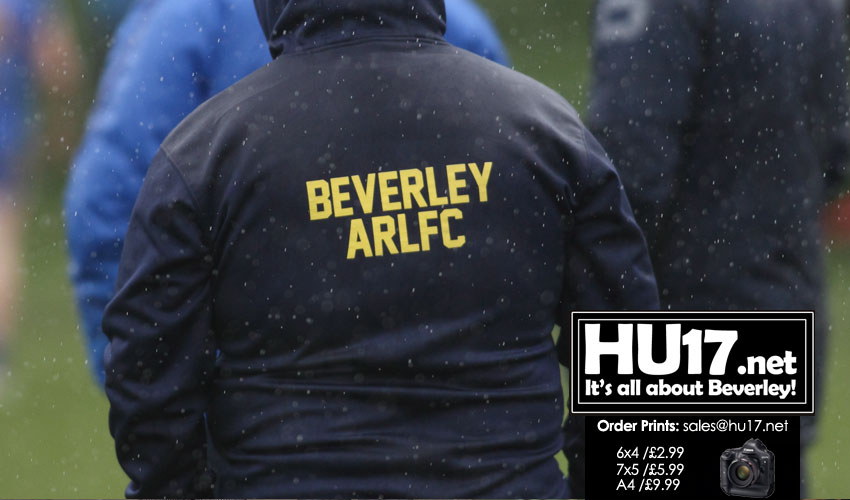 The Blue and Golds backed up from last weekend's momentous victory to make it 2 from 2 in NCL Group G beating the Myton Warriors 22-10.
Having set the bar very high they were under pressure to maintain it and the warmest day of the year so far saw another large crowd soak up the sun.
The match, although lacking in fluent play was, for the most part, a captivating arm-wrestle. Coach Tony Spence said;
"The positives for me were that we were willing to fight for everything even when things were not going our way. Our fitness did tell in the final quarter but we will be coming up against sides with equal fitness and that will really test our metal."
Similar to the previous week, the opponents had greater possession, and victory was built on a good defence.
Luke Parker crossed in the 10th minute for the hosts to open the scoring. Lewis Straw converting. As Beverley pressed for more, a long pass was intercepted by a Myton player to race up-field. Billy Riby did well to chase across the field and deny the visitors a certain try.
Establishing the field position, the Hull outfit was soon on level terms as the ball was shipped to the left for Lee James to cross in the corner. Ash James adding the extras after 20 minutes of play.
A short and clever restart kick did see the home side regain possession but the resulting attacks did not produce points. Bobby Howdle had to leave the field on the half-hour mark with a dead leg during more pressure.
More opportunities did follow when the visitors kicked down-field to clear their line. The kick went down the throat of Lewis Miller who went on a mazy run before being pulled up. Shortly after Jack Howdle was held up over the line.
As half-time beckoned Francis Coggle scooted over from dummy half to restore Beverley's lead. Straw again converted for a 12-6 advantage at the break.
In the early moments of the second half, the visitors appeared to hit back with a try from a cross-field kick. But an eagle-eyed touch judge waved his flag for offside.
The match continued to remain in the balance as the visitors had a number of attacking sets on the Beverley line. However, in the 65th minute, the infectiously enthusiastic Francis Coggle went over again from dummy half to stretch Beverley out to an 18-6 lead following Straw's conversion.
In a final throw of the dice by the visitors, a long pass was gleefully intercepted by Lewis Straw to race 70 meters and seal both league points. The extras were not added and Lee James added an injury-time