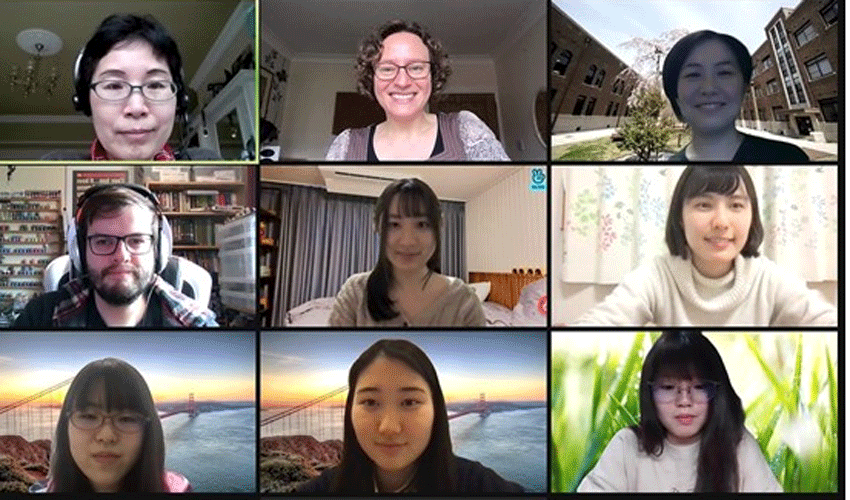 Last year, Beverley Art Gallery joined forces with The University of Hull's Japanese exchange students, who were invited to visit the gallery and research some of its collections, in preparation for a Japan-themed exhibition.
This year, COVID-19 restrictions made it impossible for the Japanese students to come to Hull and Beverley in person, but that did not stop the gallery from extending their warm welcome to them in a digital way.
The gallery held a virtual event for the students from Ochanomizu University in Tokyo, showing them around the gallery, sharing highlights from the collection, and introducing them to the beauty and rich history of Beverley.
In preparation for the virtual visit, the students followed the gallery's social media and Youtube channel, exploring behind the scenes videos and focusing on the works of local artists Fred and Mary Elwell.
University of Hull professor Tomoko Miyairi said:
"This time a group of Japanese students from Ochanomizu University, Tokyo, Japan, 'virtually' visited Beverley Art Gallery on Zoom. They were very impressed when they got to know that local people were interested in Japanese art and culture.
"Let's hope that they can come to Hull in Spring, 2022, and have a chance to visit the gallery in Beverley then."
Beverley Art Gallery Curator Helena Cox said:
"We had a fantastic time virtually welcoming the students into the gallery, and we are very happy that this is now two years in a row that we got to work with the University of Hull. Here at the gallery, we love creating local as well as international links, and it is absolutely fantastic to see how inspiring our collections are to students and audiences from all over the world!"
The exhibition will feature artwork related to Japan from across East Riding Museums, and will also feature exciting loans.
The students were kind enough to send the gallery staff their thank-you notes:
I really enjoyed it! I was very glad to see what the Beverley Art Gallery is like through this virtual tour. Under the recent situation, it is hard to go museums and meet art works so I was very happy to get this opportunity yesterday. And also, I want to thank you to presenters for answering my small question. I became more interested in Fred and Mary Elwell and their works!

Thank you for holding this tour. I did not know that there is a gallery that has something to do with Japan in the UK. I also glad to know about Beverley. It has really beautiful scenery.

I'm glad to see many photos and videos. I want to visit there!