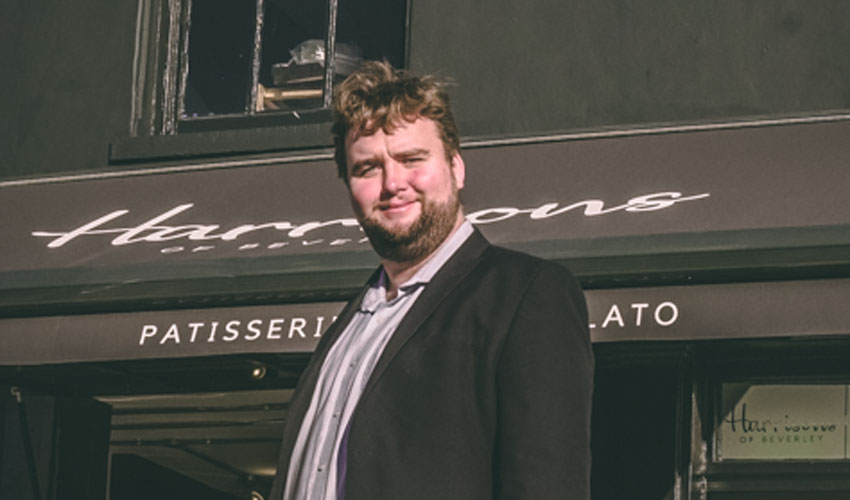 One of Beverley's most exciting new deli-restaurants of recent times, Harrisons of Beverley is now open and offering a taste of what's to come post-lockdown.
Harrisons, on Saturday Market, is serving high quality locally sourced food on street food-inspired menus, plus culinary rarities such as North Sea lobster and in-house cooked salt beef.
Creating 16 full- and part-time jobs as part of a £125,000 investment, the new venture also offers New York and Italian flavours in a fully refurbished, newly designed setting that will include, post-lockdown, indoor seating on two floors, outside seating to the rear along with a new outdoor seating area planned for the front.
"Now's the time to get a taste of what's to come, we're teasing those taste buds," said manager Rich Scotney, who is backed up by an experienced team of chefs from Michelin star-rated kitchens, front of house and waiting staff and cleaners.
"Our takeaways and home deliveries are offering a little taste of what the restaurant will be like when we're fully open.
"We're very passionate about food; making and sharing good food makes us happy. And let's face it we all need a bit of happy right now. We want to give local people something that bit extra, to help make people feel special – excellent, locally sourced food, street food with wonderful international flavours."
Available now as takeaways and home deliveries Harrisons' global street food menus journey the globe in search of the best Mexcian, Middle East, Korean, Indian, and Japanese, changing regularly and built around Harrisons' core menu.
Takeaway street food-inspired dishes currently include Crispy Seasoned Cod Taco with Pico de Galo and Chipotle Mayo in two corn tacos (£6.95) and Seared Chicken Adobo bun with Asian vegetable slaw and spiced dressing (£7.95).
"It might be a totally mad move to open in the middle of a lockdown, but we've been thrilled with the reaction, which has been so, so positive. It's definitely food, people and safety first here."
Open from 10am to 7pm Monday to Sunday, Harrisons of Beverley has a new deli sandwich counter and patisserie, and an ice cream, gelato-serving counter to the front.
"We're obviously only offering a takeaway and home delivery food and drink service while lockdown lasts," adds the former Pipe & Glass patisserie chef, "but I think it's fair to say our kitchen has chefs with an incredible track record and is already making a name for itself with some of our signature dishes in our core menu."
These high-end, deep-filled sandwiches and rolls include fresh lobster from Bridlington; locally-sourced beef is hung for three days and then slow-cooked in one of their two new combi ovens to create a culinary rarity in East Yorkshire – home-cured salt beef.
"A firm favourite already is our smoked salmon prepared to a Harrisons team recipe, but you should see our new Afternoon Teas!"
Harrisons' patisseries are prepared on-site each day and form a key part of Harrisons of Beverley's Afternoon Teas which come with a macaroon, mini-chocolate eclair, three choices of sandwich, (such as lobster, pastrami, cucumber or smoked salmon), a seasonal berry tart, winterberry cheesecake, sausage roll and scone selection. As well as serving 22 types of gelato from its counter, the new opening also has its own house blend of coffee among other speciality coffees.
Chefs include Martin Shaw, a former East Yorkshire Chef of the Year; Luke Johnstone, Chef de Partie for four years at the Pipe & Glass; and Jeremy Hollingsworth, whose previous experience includes six years working in Marco Pierre White restaurants, where he helped win a coveted Michelin star for London restaurant Quo Vadis, and ten years running his own Michelin Guide-listed restaurant in Scarborough, Jeremy's.
"We're so lucky to have brought all that expertise together under one roof in a close-knit team who have a total passion for food, local produce and customer service," added Mr Scotney.
An exciting Champagne Bar weekend Supper Club will launch post-lockdown on Friday and Saturday nights, catered by a varied roster of chefs producing high-quality global street food and featuring wine and beer tasting nights. The Supper Club will utilise the revamped rear courtyard to create a new space with a continental feel, including polished floor, festoon lighting and a champagne bar for VIP events.
That ambition and attention to detail are reflected in the rest of the refurbished restaurant with floorboards stripped, sanded and repainted, new black and white decoration throughout as well as new furniture, tables, chairs and equipment.
When fully open post-lockdown, Harrisons of Beverley will be able to cater for 48 indoors (downstairs and upstairs), 36 in the rear courtyard and 24 to the front, dependent on the success of a pilot partial pedestrianisation of Saturday Market.
The lease on the former Filmore and Union premises was arranged through Hull-based commercial property agents Garness Jones.