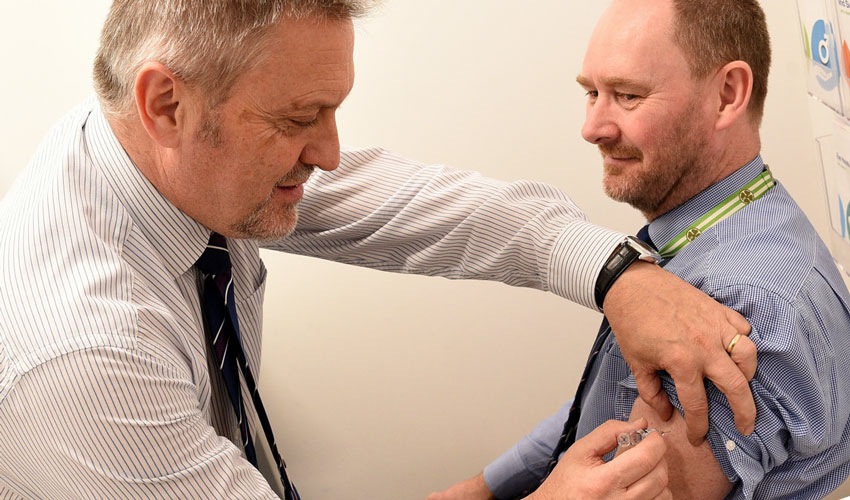 Hull and East Riding of Yorkshire Clinical Commissioning Groups, along with their local authority public health colleagues are keen to ensure that all eligible patients, particularly those in high-risk groups and newly entitled categories, receive their free flu vaccination.
On average, flu kills over 11,000 people each year and hospitalises many more. Due to the impact of flu and COVID19 circulating at the same time, this is anything but a typical year and people at high-risk from COVID19 are those most at risk from flu.
These include; adults age 65 and older; pregnant women; people with a chronic illness and people with weak immune systems.
The flu vaccination programme in Hull and East Riding started in September with GP Practices contacting those patients classed as 'high-risk', along with household contacts of people who are shielding from COVID19 and parents and carers of young children, inviting them to make an appointment for their vaccine.
In addition, the school immunisation service commenced with public health contacting parents and carers of children in reception and year 7 for consent for their child to have the vaccine in school.
This year, 50 to 64-year-olds who do not have a health condition are also eligible for the free vaccine.
GPs will contact this group of people later in the year, around December, once they have prioritised and vaccinated the high-risk eligible groups.
Dr Anne Jeffreys, local GP and East Riding of Yorkshire Clinical Commissioning Group Chairperson said;
"For many people, flu can be a mild condition, however, it can easily spread from person to person and for some people, particularly those in the high-risk groups, it can lead to hospital admission and sometimes even death."
"This year it is more important than ever that people who are eligible for the vaccination receive it so they can protect themselves, their families and friends."
"I would urge anyone in the high-risk eligible group, and those who are household contacts of shielded people, to contact their GP practice if they haven't already heard from them."
Dr Dan Roper, Hull Clinical Commissioning Group Chair said;
"I want to emphasise that we shouldn't think 'it's just flu', because for someone with underlying health conditions, people with learning disabilities, pregnant women or the elderly it can be very serious."
"The vaccine is offered free of charge to vulnerable groups because we know that they need it to stay well during the winter season. This year with COVID19 still circulating, it is more important than ever that people have their vaccination."
"Research shows that people are more likely to be seriously ill if they get flu and COVID at the same time. Having your vaccination will also help reduce pressure on the NHS and social care staff who may be dealing with coronavirus."
Julia Weldon, Director of Public Health at Hull City Council, said;
"If you qualify for a flu vaccine I cannot urge you strongly enough to ensure you take it up. Flu is not just a bad cold; it can be a very serious illness particularly in anyone with a vulnerability."
"We tend to see a lot of information circulating, particularly on social media that the vaccine can give you flu – it is absolutely not true. The best thing for your health is to have the vaccine and protect yourself – and anyone you could pass it on to."
"With coronavirus cases rising, the flu vaccine has a vital role to play in easing NHS pressures from other areas and helping people stay well."