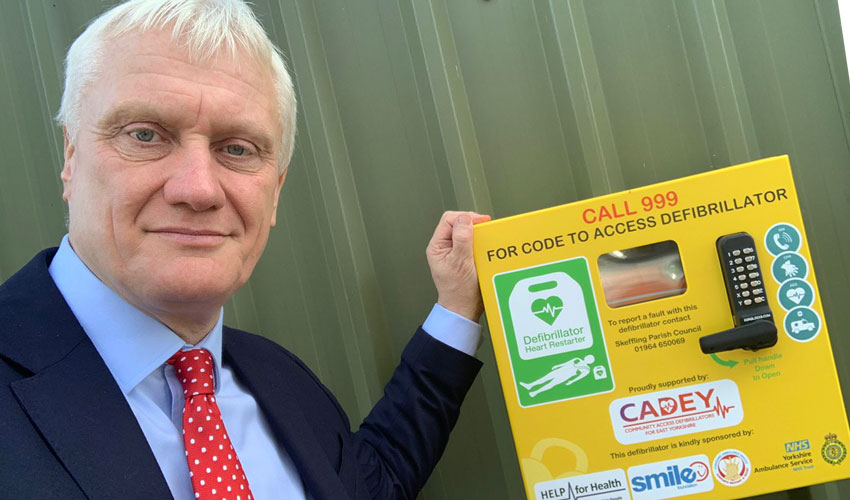 Graham Stuart, the MP for Beverley and Holderness, recently chaired the latest meeting of the CADEY Committee, which seeks to improve the life chances of people suffering cardiac arrests in East Yorkshire.
The CADEY campaign, which stands for Community Access Defibrillators for East Yorkshire, was founded by the MP in 2018 in response to the dismal survival rates for cardiac arrests which occur outside a hospital and the lack of publicly accessible defibrillators in the area.
It aims to increase the number of communities with defibrillators and to raise awareness of how easy they are to use, and the enormous difference that they can make in the event of an emergency. Research from the British Heart Foundation suggests that members of the public often lack the confidence to use the device, which has contributed to survival rates that are as low as one in every ten people. Three-quarters of people surveyed have said that they wouldn't know what to do in the event of a cardiac arrest.
It is also likely that the coronavirus outbreak has had a detrimental impact on survival rates due to a reticence from the public to get involved in medical emergencies.
Since the campaign was established in Spring 2018, the CADEY Committee has worked with partners including the Yorkshire Ambulance Service (YAS), Help for Health and the Smile Foundation to reduce the number of communities without a defibrillator from approximately 63 to just 31. Offering matched funding schemes in collaboration with parish councils and other community organisations, coverage has increased significantly, with a new defibrillator due to open in Molescroft on 9th October.
Graham said, "I was truly shocked when I found out how abysmal the survival rates were for out-of-hospital cardiac arrests. I really don't think there's any good reason for this, given that the technology is there to save lives. That's why I'm determined to improve outcomes for people going into cardiac arrest.
"For every minute without treatment, a person's survival chances fall by about 10%, which is why I want to get more defibrillators and more familiarisation so that people know how easy they are to use, as well as how much of a difference they can make."
Those witnessing a cardiac arrest should immediately call 999 in the first instance so an operator can despatch an ambulance and advise of the nearest defibrillator. Inside the casing, there are clear instructions on how to attach the pads, while an automated voice guides people through the rest of the process.
It assesses the heart's rhythm and only instructs to deliver a shock if needed. Shocks cannot be delivered accidentally as the defibrillator only allows them if they are necessary.
Graham added, "Although they're designed to be really easy to use, people still have reservations about using them – helping to save someone's life is an understandably daunting task.
"That's why I'd encourage communities to take up YAS's offer of free familiarisation, and I've also written to schools to ensure that they include lessons in CPR and how to use a defibrillator."
Then-Education Secretary, Damian Hinds MP, announced in January 2019 that CPR training and defibrillator familiarisation would be added to the national curriculum. New statutory guidance confirming this was published in February 2019, which came into effect last month upon schools' return from the summer holidays.