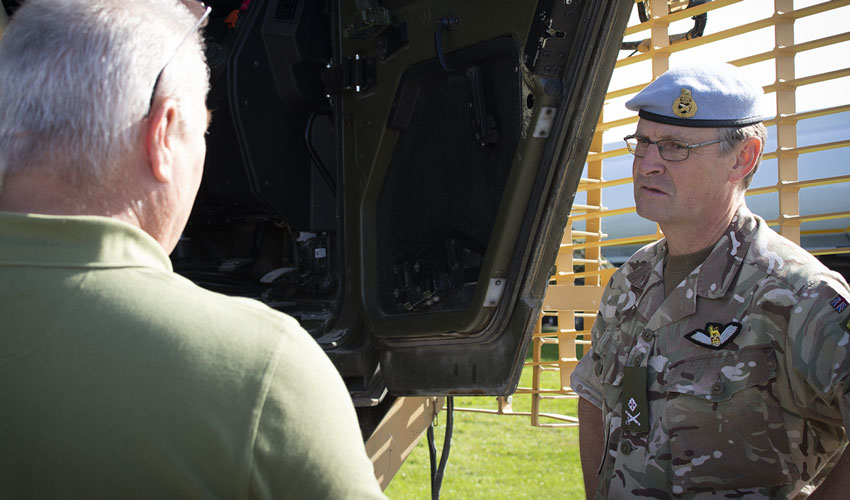 On a recent visit to the Defence School of Transport, the Director of Land Warfare, Major General James Illingworth OBE, surprised a member of staff with a prestigious Director Land Warfare Coin.
Sgt Gary Pryor, a specialist instructor at Normandy Barracks, Leconfield, was conducting a mock driving test with a student when he found himself at the scene of an accident involving a car and a motorcycle.
Displaying the highest levels of professionalism Sgt Pryor took control of the situation, secured and made safe the area and administered critical first aid to casualties.
The Director Land Warfare Coin is presented as a reward in recognition of excellence for staff throughout the Land Warfare Centre.  The use of Challenge Coins goes back to the Roman Empire who presented soldiers with coins to recognize their achievements. 
On receiving the DLW's Coin, Sgt Pryor said;
"I was thrilled to be recognised for doing something that comes naturally, but it's just part of the job and something we are trained to do in the military."
During the visit, Major General Illingworth OBE also observed training and viewed the wide range of measures in place at the Defence School of Transport to protect staff and students in a COVID-19 training environment, part of which included a demonstration on the vehicle decontamination process.
Before leaving the School, the General officially opened Ladysmith House, a welfare hub which will bring together the unit's welfare team, the regional branch of SSAFA and the HIVE.
Commandant of the Defence School of Transport, Colonel Chris Henson QGM said: "This facility represents a significant investment in the wellbeing of our personnel and support to their families."
When RAF Leconfield was built in 1936, Ladysmith House was named after the Town of Ladysmith, which during the Boer War provided sanctuary for a besieged force of British soldiers, civilians and their families.
The whole force worked together to keep each other safe until they were finally relieved in spring 1900. The building in its current format continues to live up to its namesake.