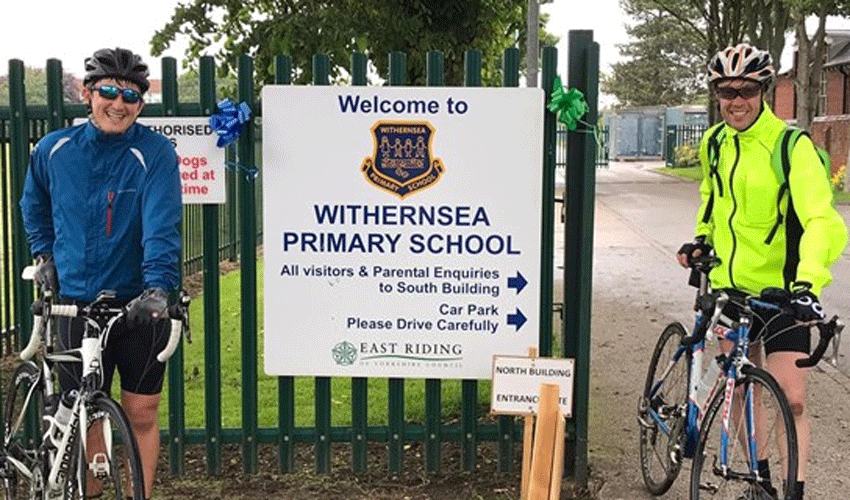 An intrepid team of council staff completed a 100km cycle challenge on behalf of East Riding teachers.
Despite heavy rain, a puncture, a route change and one less rider, three members of East Riding of Yorkshire Council's transport development team managed to cycle from Withernsea lighthouse to Flamborough lighthouse.
The trio completed the Tour of the Lighthouses trek on behalf of 40 East Riding teaching staff, who had been due to cycle the route as part of the annual Cycle4Life Challenge organised each year by the council.
However, because of the Covid-19 lockdown, the teaching staff needed to stay in the classroom to look after their pupils.
The three riders, David Butt, Christian Jordan and Julie Turner, completed the ride in six hours.
David and Christian cycled the first half, and then Christian joined Julie Turner to ride the second half, after a fourth team mate had to pull out.
Their route was slightly changed to take in quieter, country roads because of the wet weather.
But they still managed to call at schools in Withernsea, Brandesburton, Nafferton and Flamborough, where they were given a warm welcome.
Paul McConnon, transport development manager at the council, said: "They weren't expecting it, but when the riders stopped outside the schools, some of the children and teachers came out to give them a wave through the school gates, which was fantastic and really perked the riders up.
"We'd really like to thank the pupils and teachers who stood outside in the rain waiting for them to arrive.
"The ride went really well despite the weather and a puncture on the route. The team were smiling throughout the day despite being soaked to the skin, and they rode through some lovely East Riding countryside."
The three riders tied blue and green ribbons on the gates of all four schools as a show of support for the fantastic work being done by the NHS and all key workers at this time – including the school staff.
In June last year, teachers and school staff took part in The Wolds 100 – a 100km (60-mile) bike ride across the Yorkshire Wolds.
The council's Cycle4Life Challenge Week is an annual campaign to encourage people to take up cycling, although most of this year's events have been cancelled.
Instead, the council's transport development team is offering free, personal cycle training for East Riding residents aged 11 and over, to help them gain the skills and confidence to cycle more regularly.