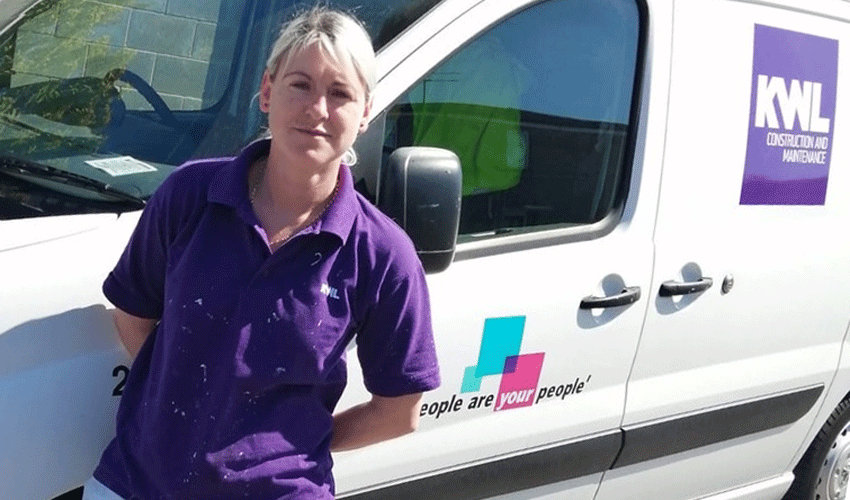 It's no secret that the construction sector is male-dominated. According to the UK's Construction Training Board (CITB) the proportion of women working in skilled manual labour is just 2 per cent.
Tackling the diversity divide in Hull, women employed at KWL want to encourage young women to follow in their footsteps into the trades.
A working group led internally by team leaders and directors have put measures in place to make it easier for women to enter the industry.
Michaela, age 35 is a Painter and Decorator. She joined Hull City Council's Apprentice Scheme straight from school and transferred over the KWL.
Michaela says:
"When I was at school I wanted to be either an artist or an air-hostess but when the Careers Adviser told me about Apprenticeships, my Dad who worked as a Joiner, encouraged me to enrol so that I could get a solid grounding. I have never looked back and have loved every minute of my career so far."
"I was the only girl out of my friendship group to pursue a career in construction. For the first few years I came across other women who were involved in these types of roles but now I am usually the only female on-site. There are other women at KWL; Olivia is an Apprentice Plaster/tiler and Becky is an Electrician. I usually come in after they have finished their part of the job. Painting and decorating is the final part and I love that I get to see the job completed."
"During the current Coronavirus lockdown, I am working on void properties. These were empty homes that have been refurbished and brought back into use by Hull City Council. It is great to know that I am helping young people and families move into excellent quality accommodation. This role definitely comes with job satisfaction."
"I would never have wanted to work in an office or to be in the same place every day. When I'm working on the Repair and Maintenance jobs I'm always meeting new people who are pleased that KWL has arrived to help them. This can involve anything from working up a scaffold on the externals and stairwells, to painting a shed, removing mould, freshening up the interiors, or completely redecorating a number of houses and flats all in one go."
"There are lots of perks to the job; overtime, a bonus scheme and we also get a company van. That's why you can see KWL vans all over Hull, as most of the construction team are provided with one of their own."
"It must be a worrying time for young people who are not able to complete their final year of school but I would say if you are looking for a practical job, enjoy meeting new people and like to be on the move, then the Apprenticeship scheme here is a brilliant opportunity. The training is excellent, the team is supportive and good fun. I love coming to work."
Jade Tindall is the Deputy Operations Manager at KWL, one of the main leads on the Working Group. She says:
"Equality and diversity is an issue across the construction industry globally. Here at KWL we currently employ 460 people. 79 of these are women and only 7 of these work within construction roles and senior management."
"Our Female Recruitment and Retention Working Group is led internally by team leaders and directors and measures are in place to make it easier for women to enter the industry. These include; flexible working hours, equality and diversity training for all employees, increased work placements opportunities for school students, promoting the construction industry in general through our partners and suppliers and increased exposure to highlight the issues in construction."
KWL Director (and local councillor), Julia Conner said:
"KWL has nine Directors of which five are female and just as the board of Directors is gender-balanced we are actively encouraging females to apply for positions in construction."
"We have apprenticeship training and other opportunities within the company, so if you have ever thought I would like to do that type of work but I'm female and wouldn't be given the opportunity, that is not true. Times are changing so please do apply and increase the gender balance in our construction team, we are waiting for your application."
KWL Director (and local councillor), Deborah Matthews says:
"I am proud to be a Director of a forward-thinking company that promotes and encourages equal access and opportunity in the workplace."
"Here at KWL, we are committed to encouraging and harnessing the skills women have to offer the construction industry."