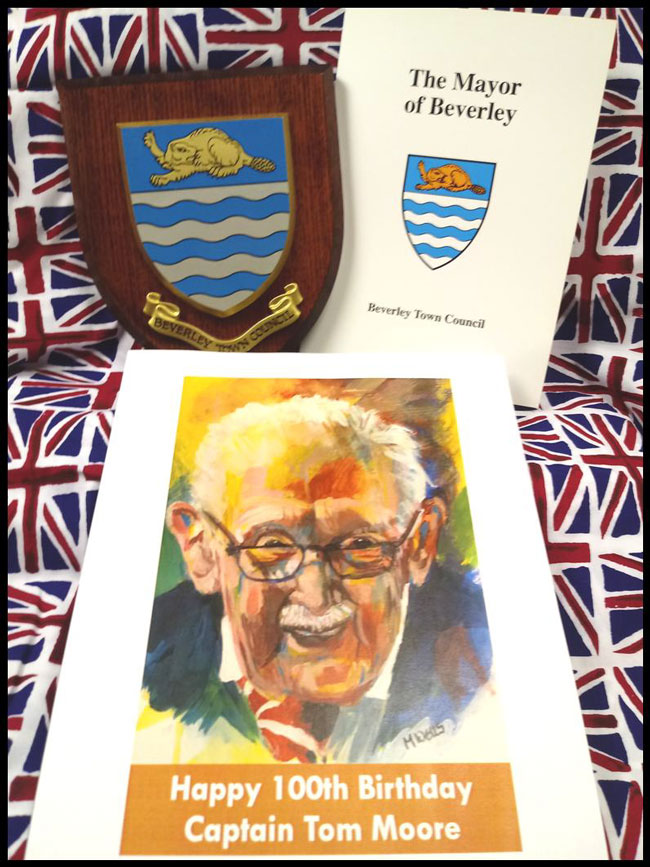 Beverley Town Council has sent a card to the inspirational Captain Tom Moore who turned 100 today.
As the nation struggles during the Covid-19 pandemic, Captain Tom has captured the hearts of everyone while raising over £30M for the NHS Charities.
Mayor of Beverley Cllr Duncan Jack says the decision to send a card while a small gesture it is one resident in Beverley would want them to do.
The Mayor, speaking from his home while in isolation said;
"We felt we should send him a card on behalf of the town. He is a true gentleman that has lifted the countries spirits."
"What he has done is amazing. The fact he comes from Yorkshire too is nice."
"As a council, we felt that we should send him a message on his birthday on behalf of the town. It is only a small gesture but one we feel the residents would want us to make."
Card To Captain Tom Moore Features Work By Local Artist
The card its self features the work of local artist Mary Wells. Town Clerk Helen Watson explained how the work ended up being used for the card, she said;
"I first saw the painting on social media. As I knew we were doing a card for Captain Tom after it was brought up at our recent full council meeting."
"As a result, I reached out and the artist through a local connection and they agreed to let us use it free of charge."
"I believe the artist is thrilled that her portrait has been used."
The message inside the card from reads;

Happy 100th birthday Captain Tom. You are a true Yorkshire hero.

With Best Wishes From

Mayor of Beverley Cllr Duncan Jack, Beverley Town Council Councillors, Officers and the people of Beverley.
Anyone wanting to make a donation to Captain Tom Moore can do so by visiting his Just Giving Page.