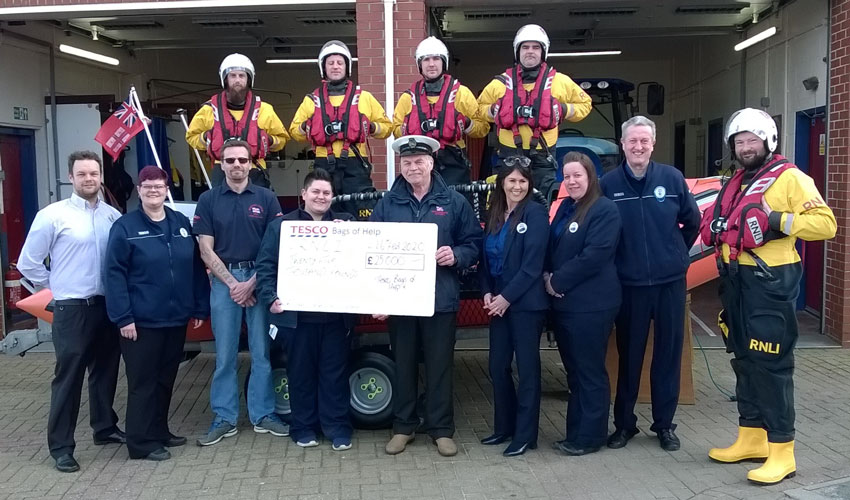 Tesco has awarded £25,000 to The Royal National Lifeboat Institution. The RNLI was founded in 1824. Since then it has saved over 139,000 lives.
They provided a 24/7 lifeboat search and rescue throughout the UK.
The money was donated to the charity after they scooped the top prize in their Centenary Grants Bags of Help customer vote.
Customers in Beverley and across the region were invited vote, picking the RNLI as their winner.
David Ryley, Tesco Beverley's Community Champion visited the Withernsea Lifeboat Station.
He was joined by his colleagues from Withernsea, Hull St Stephens and Driffield stores at for the cheque presentation.
While there he learned more about the work undertaken b the charity. He also learned how the money they were awarded will be spent.
Matt Woodhouse, volunteer helmsman at the station said;
"We are obviously very delighted with the £25,000 award from Tesco's Bags of Help Scheme."
"On behalf of the RNLI, I would like to thank every customer who chose to support our cause. As a charity, we rely on public support to save lives at sea."
"Money donated to us will go towards our volunteer crew training. It costs £1,500 a year to fully train a crewman so they are ready to help those in need."
The Royal National Lifeboat Saved Seven Lives Locally Last Year
"At Withernsea last year we saved seven lives. This would not have happened without the outstanding training we receive at The Royal National Lifeboat Institution."
"The Bags of Help scheme donation will certainly go a long way to helping those in trouble off the East Yorkshire coast."
Local Bags of Help is always open for applications from schools, sports clubs, charities and community groups.
Anyone that would like to make an application should get in touch with David Ryley.
He can be reached by calling 07871 572742 or on email beverley.community@tesco.com. He will be happy to provide more information on entry criteria.