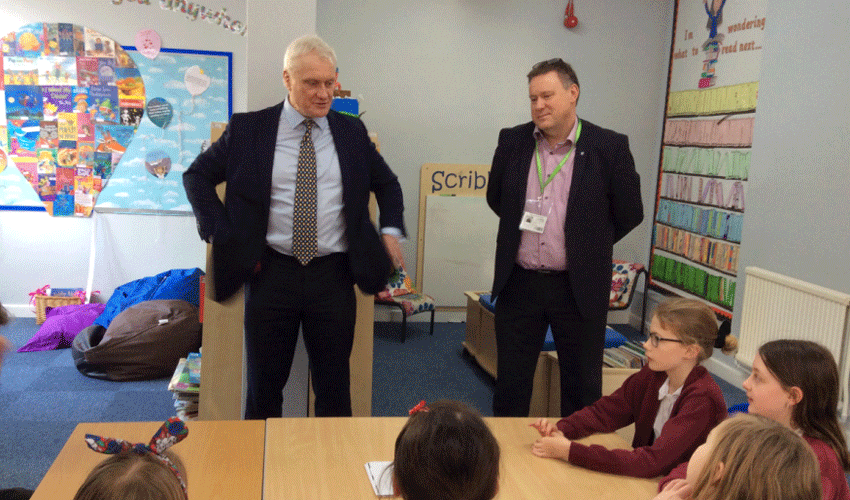 Graham Stuart, MP for Beverley and Holderness, has visited Beverley Minster Primary School to get an update from school leaders.
Mr Stuart met with the Headteacher, Rachel Hatter, and the Chair of Governors, Tim Walker. While there he spoke with them about improvements being made around the school. He also found time to meet some of the pupils to hear about their time there.
The visit is part of the local MP's efforts to speak to school leaders across the constituency following the Government's recent announcement of £14 billion extra funding for schools.
As a result of the funding every school per-pupil funding rise at least in line with inflation next year. The average increase across the country is 4%.
Furthermore historically underfunded schools receiving the greatest uplifts. The average per-pupil uplift in Beverley and Holderness next year will be 8%.
Commenting on his visit Mr Stuart said;
"With schools set to benefit from new absolute minimums of £5,000 per pupil for secondary schools and £3,750 for primary schools, I want to visit as many as possible to stay informed of the progress being made in improving outcomes for children and providing them with a world-class education.
"In particular, I'm hoping to visit schools that could benefit the most from additional funding to help them provide a good education to children across the constituency.
"I had a great time chatting to pupils at Beverley Minster. They were very confident and polite and spoke enthusiastically about their time at the school. I got the chance to hear what they were enjoying studying, and I also spoke a little bit about what my role is as an MP."
Graham Stuart Impressed With Beverley Minster School's Approach To Reading
Graham was also interested to hear about changes Beverley Minster had made to how they teach reading.
England is now in joint-8th place in the Progress in International Reading Literacy Study. This is up from joint-10th in 2011 and 19th under the last Labour Government.
Mr Stuart added;
"The school's new approach to reading was very interesting to hear about. I know the school's last Ofsted report did mention there was room to improve in this area in Key Stage 1.
"Because of the reforms to phonics that we've pushed, 163,000 more 6 year-olds are on track to become fluent readers compared to 2012."