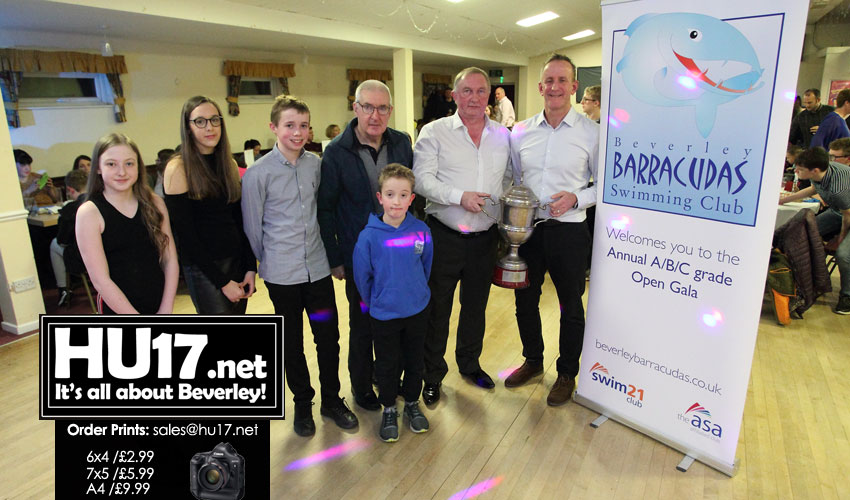 Beverley Barracudas were celebrating after they retained their title as the best swimming club in the region.
At a special event host at Armstrongs Social Club, members of the Barracudas were acknowledged for their efforts.
John Stevens, Chairman of The Beverley Baracuda said the members should be very proud of what they had achieved in the pool.
Speaking to HU17.net about the club retaining their title he said;
"This trophy is the pinnacle of the sport locally. The best swimmers based at clubs from Beverley, Pocklington, Thirsk and Scarbrough compete for this."
"As a result of having the fastest swimmers across all ages, we retained the cup this year. It is very important for us a club to win this. It demonstrates we are the best club in the East Riding region."
Beverley Barracudas are based at the Beverley Leisure Centre. They currently have around 100 members aged between 7 to 18. Swimmers at the club compete in a host of galas on local level.
As a local club, they were established back in 2006 which sees them move into their fourteenth year since being formed.
At the event officials linked to the club took the time to also thank the parents. They acknowledged their support and commitment shown to the youngsters who swim for them.
Throughout the event, awards were handed to members of all ages. Awards made on the night included most improved and fastest times in the water.
Beverley Barracudas, which is run by volunteers is a friendly club. Anyone who would like to find out more and also potentially join them should visit their web site.