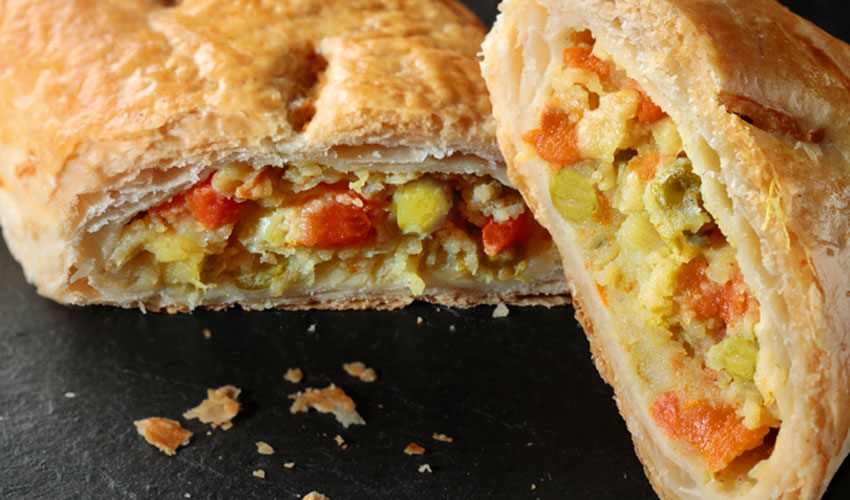 As people across the country turn to a plant-based diet for the month to support Veganuary, Thomas the Baker is offering free samples of vegan goodies in store.
All of Thomas' 30 stores across Yorkshire and the North East will also be offering a free taste of its popular Vegetable Pasty, which has recently been redeveloped to be suitable for vegans, from Monday 20 to Friday 24 January.
A quarter of a million people actively pledged to follow Veganuary in 2018 – signing up to eat a vegan diet for the month of January – but 10 times more were estimated to have taken part. Almost half of those who did Veganuary said they planned to continue following the diet and research shows there has been an almost 500 per cent increase in those interested in veganism in the UK in the last five years*.
Thomas the Baker's Vegetable Pasty includes a secret blend of subtly spicy seasonings, combined with mouthwatering chunks of vegetables encased in a flaky, buttery-tasting vegan puff pastry.
Other vegan products available at Thomas' include Jammy Gems biscuits; fruit and nut and plain flapjacks; homemade tomato soup; and a wide range of bread including ciabatta, sourdough, Country Crunch, Toastie Loaf, demi-baguette, Scottish morning rolls and the multi seeded loaf.
Simon Thomas, general manager at Thomas the Baker, said:
"More and more people are choosing to follow a vegan diet either all or some of the time – as apparently nine out of 10 plant-based meals are actually consumed by non-vegans."
"We have redeveloped our Vegetable Pasty to make it suitable for vegans – whilst making it even tastier – but we also have a range of other products which are vegan-friendly."
"We know vegans don't necessarily want to have something which is designed to taste like meat, but they do want delicious, well-made food which is full of flavour. You certainly don't have to be vegan to enjoy these products though and we look forward to letting customers have a try for themselves."