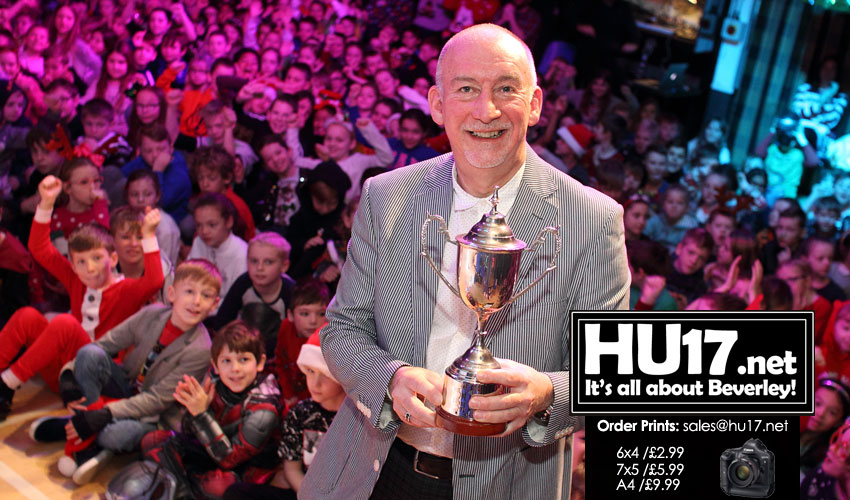 Michael Loncaster, Headteacher of Molescroft Primary School has been awarded the Millenium Cup by Molescroft Parish Council.
Mr Loncaster has been the Headteacher at Molescroft Primary School since 2001. Due to his efforts, he has been acknowledged by the Parish Council who described him as an inspirational figure.
The cup was given to Mr Loncaster at a surprise presentation in front of the school.
Speaking to HU17.net, Mike Hildyard, Chairman of Molescroft Parish Council said;
"The Presentation Cup was integrated for the Queen's Golden Jubilee. It is awarded to people who make a big contribution to the parish."
"In all those years it has only been presented around six times, so it only goes to people qualify."
"We have always had a strong attachment to the school. Following a recent visit by the Parish Council to the school we were all very impressed."
"In fact, we were very proud of the contribution that the school makes to the Molescroft community. The school as a whole brings kudos to the parish."
Michael Loncaster Certainly An Inspirational Figure In The Community
"Molescroft Primary School under the leadership of Michael Loncaster is an asset to the community and their contribution is immeasurable."
"There is no doubt in the minds of the Parish Council that Mr Loncaster is an inspiring figure."
Mr Loncaster was clearly shocked that he had been chosen, speaking to HU17.net Mr Loncaster said;
"I am lost for words. It is amazing, I really had no idea. We want to be part of the community not just Molescroft, Beverley and indeed the bigger world. We have worked so hard since we have been together."
"It makes it all worthwhile, to be honest, because you want to make a difference."
"Children will be presenting cheques to several chosen charities. What they don't know is that they have broken their record raising £5,400 for the community. "