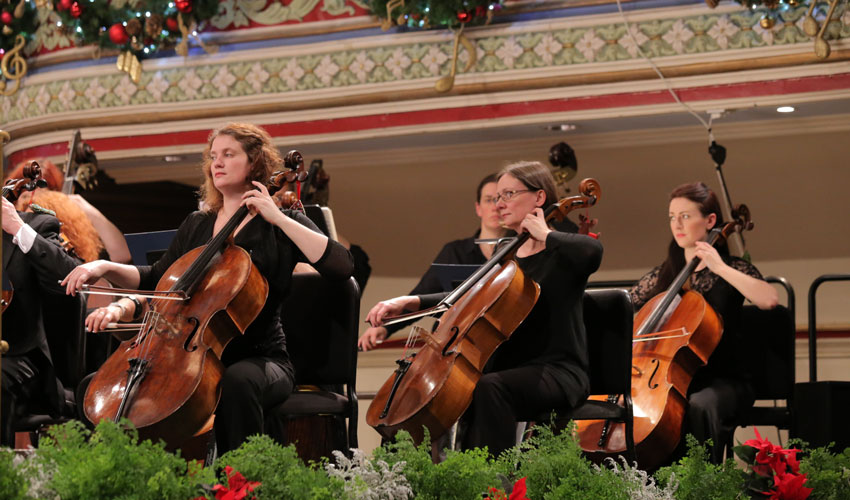 An Opera North mainstage favourite as a baritone, Gavan Ring returns to the company as a tenor for the Viennese Whirl New Year concert at Hull City Hall on 31 December.
"This year has been a rollercoaster!" laughs the singer, who was born and raised in County Kerry, southwest Ireland. "I literally finished up being a baritone in May, then my first ever concert as a tenor – at the National Concert Hall Dublin – was broadcast by RTÉ in Ireland!"
"Since then it's been a year of firsts: my first staged role as a tenor, tenor debuts in London, Dublin, Wexford and New York, my first Messiah as a tenor… and overall it's going very well – I'm very glad I made the change!"
Returning to the Orchestra of Opera North for the traditional New Year bash, under the baton of the company's former Music Director Paul Daniel, will be a fitting way to see out a whirlwind of a year, he says.
"I've always wanted to do a Viennese New Year concert and I am beyond excited to be doing it with my favourite company in the world, Opera North. They have been so good to me, and so much of my success in making my transition from baritone to tenor is down to them".
We asked Gavan to take us through each of the classic tenor songs that he'll be sprinkling in among the traditional waltzes, marches and polkas at the concert…
'Girls were made to love and kiss' comes from Paganini, the first of six operettas written by the Austrian composer Franz Lehár for his compatriot, Richard Tauber, one of the greatest tenors of the last century. "I think this will be a bit of cheeky fun", says Gavan. "As a baritone, I played a lot of roles that interacted with the audience, so I think we'll see a reprise of the character (but not the voice obviously!) of that smart alec!"
Influenced by the folk music of his birthplace in Abruzzo, Paolo Tosti's ballads of love and longing are gorgeous, melodic miniatures that somehow seem to contain as much emotion as a full-length opera.
'L'alba sepàra dalla luce l'ombra' ('The dawn divides the darkness from light') is one of his finest. "Tosti wrote this song and many more for the great Italian tenor Enrico Caruso, who incidentally started out as a baritone too!" says Gavan.
Another gem from Franz Lehár, and a particular favourite of Gavan's, 'You Are My Heart's Delight' comes from The Land of Smiles, his bittersweet operetta telling the story of the doomed love of a Viennese countess for a Chinese prince. "I adore this area and can't wait to perform it!", he says. "It's another of the songs that Lehár wrote for Richard Tauber, who of course had the most amazing breath control".
If you haven't heard a recording by Caruso or Pavarotti, you might recognise 'Torna a Surriento' from English language versions by Frank Sinatra, Dean Martin, Elvis, or even Meat Loaf. One of the finest examples of traditional Neapolitan song, it was written in 1902 by the native composer Ernesto De Curtis, whose brother Giambattista penned the intensely nostalgic lyrics.
"'Surriento' reminds me of where I am from in Ireland – a beautiful coastal village on the Atlantic coast in County Kerry by the name of Cahersiveen. The idea of the sea inspiring so many emotions is something that resonates hugely with me… although we don't get the same amount of sunshine in Kerry as they do in Surriento!
"I've sung 'You are my Heart's Delight' and 'Torna a Surriento' a number of times before (I used to sing 'Torna a Surriento' as a baritone – go figure!) Pieces that are so well known always bring a level of expectation but I am so thrilled to be able to sing this repertoire now, and sing it well, that I think myself, Paul and the Orchestra will bring our own originality to them all!"
Gavan Ring joins the Orchestra of Opera North and conductor Paul Daniel for Viennese Whirl at Hull City Hall on Tuesday 31 December at 3.00pm. For more information and to book, visit hulltheatres.co.uk or call Box Office on 01482 300 306.