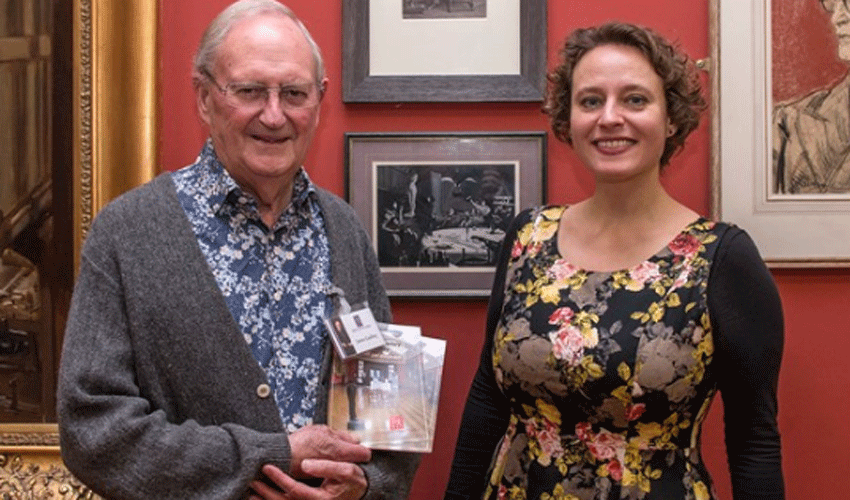 Beverley Art Gallery has acquired – and put on display – a painting by local artist Fred Elwell, which was purchased by the Friends of Beverley Art Gallery.
The painting is a black and white image, signed and dated 1896. This dates to the time that Elwell lived in Paris where he studied at Academie Julian, an independent school where lots of artists from all over the world studied at that time.
It was an exciting international crossroads in the centre of Paris – the most artistically progressive city at the time.
The painting depicts an 'Artists' Appreciation Evening', a very bohemian gathering of both men and women enjoying a free-spirited evening with wine, cigarettes and a naked figure on a pedestal – which might be a sculpture, or maybe even a live model.
The piece is beautifully painted with a cartoon-like quality while maintaining a splendid eye for significant detail.
Curator Helena Cox explains:
"The new painting is of a rather small size but is important for our Elwell collection. It is a gouache and there is a certain mystery to it, too! The image was first torn into two pieces and then put together again before being offered for auction. It was found at one of Fred's studios in Beverley. Allegedly, it has been kept in two pieces for a long time.
"So, someone must have been so upset with the piece that they tried to destroy it, and then someone else must have loved it so much they've done all they could to save it. It remains a proper mystery!
"There is no other Elwell quite like it, not only in our collection but also in any other UK collection, public or private (as far as we know).
"We are indebted to the Friends of Beverley Art Gallery who very kindly purchased the painting for us."
The Friends of Beverley Art Gallery were glad to be able to buy this painting for the gallery collection, having assisted in the purchase of another special Elwell last year, 'In the Studio', a painting by Fred of Mary. The Friends always hope to be able to assist with these special purchases and are grateful for the support of the members which makes this possible.
Beverley Art Gallery is located in the Treasure House in Champney Road, and is open :
Mondays, Wednesdays and Fridays : 9.30am – 5pm
Tuesdays and Thursdays: 9.30am -8pm
Saturdays : 9am- 4pm