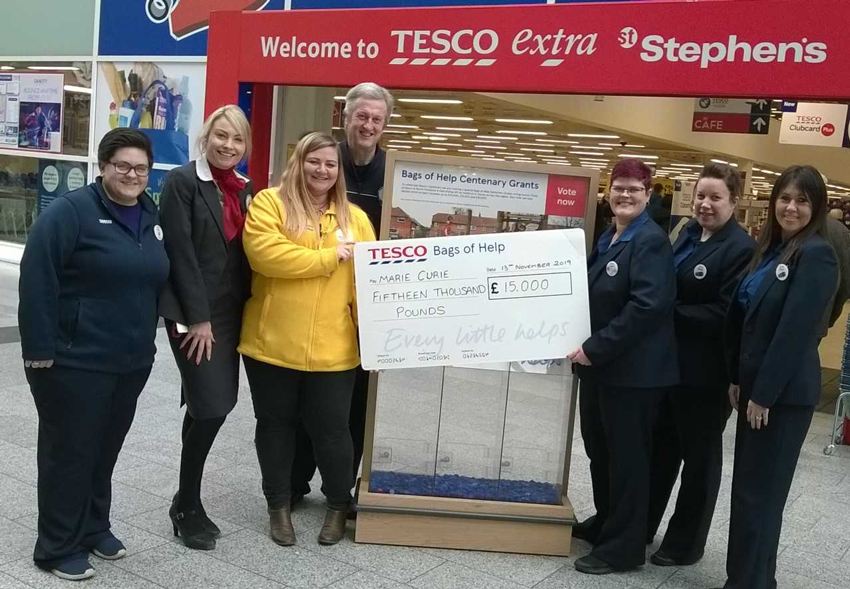 Marie Curie won the second prize of £15,000 in our North and East Yorkshire region's July – September Centenary Grants Bags of Help customer vote.
The vote took place in all Tesco stores across the region. Staff from Tesco met with Kelly Maton from the charity at the Hull St Stephens store.
While there Kelly was presented with a cheque and she also explained more about the work they do as a charity.
Liz Howlett, Yorkshire Fundraising Manager at Marie Curie, said;
"Marie Curie nurses work across North & East Yorkshire to provide compassionate and expert care that helps to reassure families and enables them to get some much-needed rest."
"Last year we provided over 51,000 hours of care across North Yorkshire, York and East Riding. But we still need to do more; one in four people don't get the care and support they need."
"We don't think that's good enough. We know more and more people want to die at home but caring for a loved one at home is a challenge for many families."
"Accessing the right care and support at the right time can a huge difference and can prevent distressing emergency hospital admissions."
"We're delighted to have been awarded this donation from Tesco which will help us to make it easier for people living with a terminal illness to access the right support at the right time."
Marie Curie Fund Raiser Thrilled With Award
Kelly Maton, Community Fundraiser for East Yorkshire at Marie Curie said;
"In East Yorkshire alone, last year we provided over 17,000 hours of care to people and their families in the community."
"We can't provide this care and support for people living with a terminal illness without your help. So a big thanks to everyone for voting for Marie Curie."
"Your support means we can help make sure more people facing a terminal illness in the year ahead, won't be doing so alone."