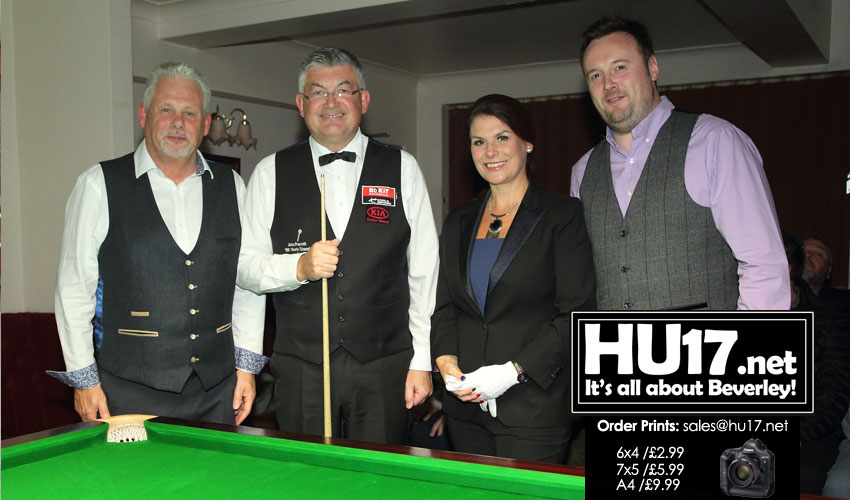 John Parrot and Michaela Tabb were both on top form as they entertained members of the Beverley C Club.
The snookering pair were at the Beverley C Club for another special event that saw the former World Champion take on eight players.
Rob Hardwick, from Beverley C Club, commenting on the night said;
"It was certainly a brilliant night at the Beverley C Club. To have John Parrot and Michaela Tabb in the club was truly fantastic."
"John was is a very funny man and that came through at the event. He was also very engaging with the those there which added to the night. As for Michaela, she is a lovely lady. She also enjoyed some banter with Lee Hastings and Paul Walker."
"In all, we had 80 people who attended the night. Feedback from those who came along has been really positive. They all enjoyed the night with some saying it was better than our last one with Jimmy White."
There were a number of highlights on the night. Lee Hastings contributed one of them after he kept telling Parrot, a former world champion about a three-ball plant.
Having John Parrot In Club Was The Highlight Of My Night
Parrot turned the tables on Lee, handing his snooker cue challenging him to make the plant. What happened next was certainly unexpected, Hasting got up and made the plant.
Rob added;
"For me, personally the highlight of the night was to have John in the Beverley C Club. I am really pleased that members enjoyed the night."
"We are certainly not ruling out holding another event in the future. Having the former greats of the game come to Beverley and to our club is proving very popular."
"Beverley C Club is one of the best places in the area when it comes to playing snooker. We have five first-class tables. Anyone who wants to take up the sport is always welcome here."