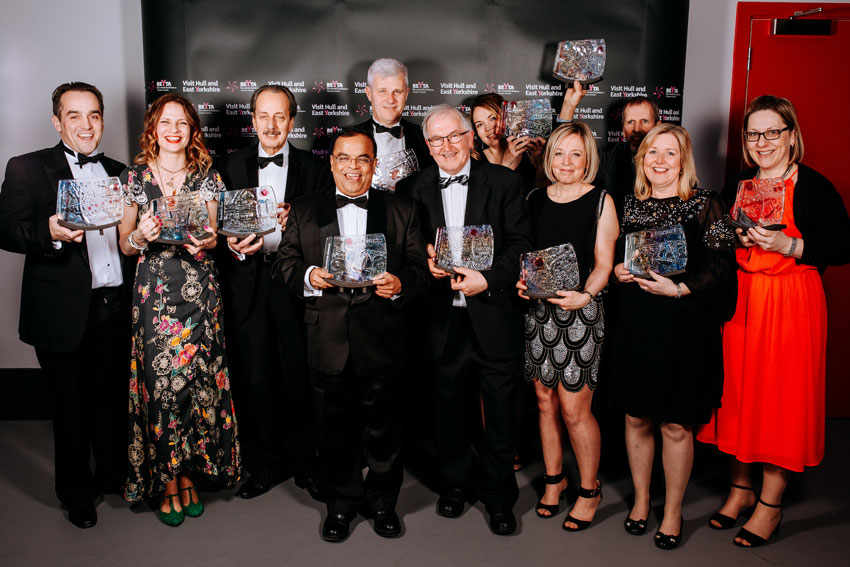 Awards that reward the region's best, brightest, most successful and innovative tourism businesses have been given a significant boost with the news that they will also now be a route to national recognition.
The 2020 Remarkable East Yorkshire Tourism Awards, the REYTAs, organised by tourism body Visit Hull and East Yorkshire (VHEY), are officially launched.
Now in their 11th year, the REYTAs, for the first time, is being run in association with the national Visit England Awards for Excellence 2020 and eligible winners will be automatically put forward to the national VisitEngland Awards for Excellence 2020.
Will Hall, interim tourism manager for Visit Hull and East Yorkshire, described the move as a "significant milestone for the REYTAs". He said: "All applicants need to progress through a local/regional competition to reach the national Awards, so it's only winners of regional awards like the REYTAs that will be considered. And given the benefits businesses tell us the REYTAs bring, the chance of being put in the national spotlight will take the competition to a whole new level."
To mark the tie-in with the country's national tourist board, the 2020 REYTAs have been further enhanced with new, additional, categories. There are 16 in total, including one bestowed by the Visit Hull & East Yorkshire Advisory Board, honouring an individual who has made a significant contribution to tourism in the region.
New categories this time are the Remarkable Accessible and Inclusive Tourism Award, which will recognise tourism businesses providing truly memorable visitor experiences for everyone, particularly those with accessibility requirements, and the Remarkable Ethical, Responsible and Sustainable Tourism Award, which recognises tourism businesses committed to being sustainable, responsible and ethical in how they operate and interact with customers, the wider community and the environment.
In addition to these, the REYTAs also honour the very best, from major visitor attractions and events to hotels and accommodation providers, restaurants, pubs, cafes, food retailers and producers.
The REYTAs is open to all tourism businesses in Hull and East Yorkshire, large and small. Entry is free and easy to complete and can be done online, from today, by visiting www.visithullandeastyorkshire.com/reyta
Entries must be in by noon on Monday, January 20, 2020, after which a shortlist of finalists will be drawn up. Judging will then take place via independent panels and mystery shopping, ahead of the finals night, which this year returns to the Bridlington Spa on Thursday, March 19.
Mr Hall commented: "Hull and East Yorkshire continues to establish itself to be one of the top choices for visitors from outside our region as well as offering fantastic choices for local people to enjoy all year round.
"It's a remarkable event to celebrate a remarkable industry which contributes over £866 million annually to the Hull and East Yorkshire economy and provides employment for over 18,000 people. The awards showcase the very best that Hull and East Yorkshire have to offer."
One of those who triumphed in 2019 was Jo Lee, who runs Kingfisher Lakes Glamping at Brandesburton with her husband Phil. They won the REYTA for self-catering accommodation, describing it as "an amazing experience".
She said:
"We were on a high for weeks and months afterwards. We had always had nice comments from guests who have stayed with us, but to be recognised by Visit Hull and East Yorkshire and your peers was a remarkable feeling. We were so proud.
"It was a massive boost for us and our success in the competition has definitely played a part in the fact that the season just gone, the third year since we launched the business, has been our first fully-booked season."
Meanwhile, Emma Kinton, who started Hotham's Gin School & Distillery in Hepworth's Arcade, Hull, with her partner Simon Pownall in January 2018 and who won the Remarkable Food Experience award earlier this year, described winning the REYTA as "invaluable".
She said: "Winning definitely does make a difference; locally the REYTAs have such a high profile and the awards dinner is such a fabulous occasion. It's putting us in a shop window amongst some very high-quality businesses and events. You cannot put a price on that."
Hotham's Gin School was launched in Hull in January 2018 and has gone from strength to strength ever since. So much so Emma and Simon are about to launch a similar business in Leeds, due to open its doors in December.
Over the next weeks and months, full details of the programme for the awards night will be unveiled but already it's regarded as one of the social highlights of the year, attracting more than 500 guests.
VHEY is the area's tourism partnership, funded jointly by Hull City Council and East Riding of Yorkshire Council. Paul Bell, Head of Economic Development for East Riding of Yorkshire Council, said: "The Remarkable East Yorkshire Tourism Awards are now in their 11th year and continue to go from strength-to-strength. Being shortlisted for one of these prestigious awards is a great achievement and those who go on to win represent the very best of what our area has to offer."
He continued:
"The REYTAs recognise the quality of businesses and individuals working in the tourism industry, locally, and acknowledge the contribution they make to our area's visitor economy. Tourism is one of East Yorkshire's most important industries, supporting over 18,000 jobs and bringing in £866 million a year to the local economy."
Meanwhile, Anthony Yates, Head of Visitor Destination for Hull City Council, said:
"It has been another fantastic year for the city's tourism industry, which is reflected in the REYTAs being expanded to include a record number of categories. As a city, we should be proud of these fantastic businesses and organisations which make such a vital contribution to our visitor economy."