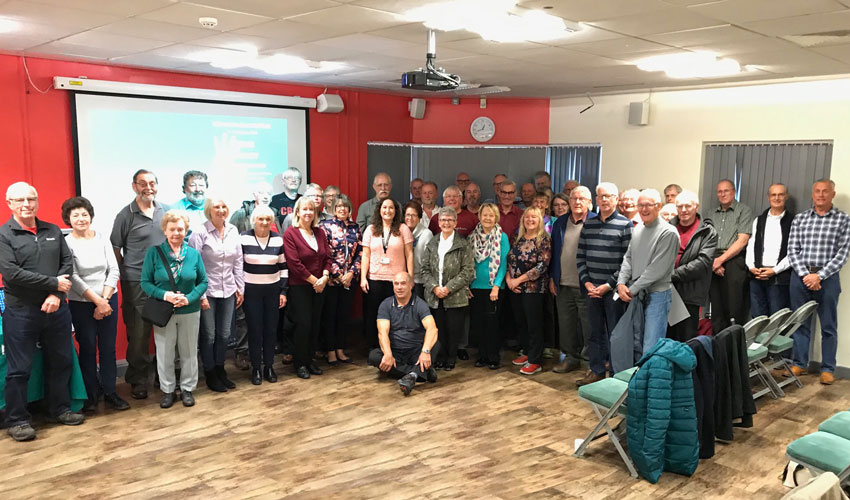 East Riding's Walking for Health programme has celebrated its 16th year of providing health walks for the community.
The first walk was launched in October 2003 at what was then Beverley Leisure Complex, with one walk being led once a week. There are currently 22 different locations covering large towns and some villages, offering 1,031 yearly, 86 monthly and 21 weekly walks.
Around 700 people currently participate, along with 152 dedicated volunteer walk leaders.
To celebrate, East Riding's Walking for Health programme lead Laura Hutchinson invited all-volunteer walk leaders to a leaders meeting to recognise and thank them for their hard work at helping to improve the health and wellbeing of the community.
Awards were presented to the Market Weighton group for the highest number of places taken and the highest average of a walker.
The Beverley group was awarded for the highest number of people registered to their walk, and the Cottingham group was awarded for the newest people registered that year.
A special recognition award went to Isobel Cole from the Francis Scaife walking group for her dedication to the Walking for Health programme.
The guest speaker at the event was Paul Wooley from the National Walking for Health team, and he updated the group on the new funder, Sport England, and their vision for 2020.
Paul said: "What a fantastic day I had to see all the volunteer leaders come together and get the recognition they deserve for leading walks in their local community."
Leaders were also given safeguarding training at the event to ensure they can help protect some of our vulnerable members of the community.
Market Weighton's walk leader, David Battams, said: "We thoroughly enjoyed the walk leaders meeting. It was great to meet all the other walk leaders and we are very pleased to win two awards this year."
Walking for Health is England's largest network of health walks, with over 375 active schemes, helping people across the country lead a more active lifestyle. It has helped improve the mental and physical wellbeing of thousands of people.
Walks are short and over easy terrain; they are open to everyone but are especially aimed at those who are least active. A variety of different levels, from the slower-paced 30 and 45-minute sessions, to the longer one and two-hour walks are available.
Laura Hutchinson, the scheme coordinator at East Riding of Yorkshire Council, said: "Walking at a brisk pace for as little as 10 minutes per day can lead to massive health benefits by lowering the risk of type 2 diabetes, cardiovascular disease, dementia and some cancers.
"Joining our walks provides a safe environment for everyone to enjoy walking and exploring our natural environment."
East Riding Walking for Health welcomes new participants throughout the year. To join, or train as a walk leader, please contact Laura Hutchinson on (01482) 392527