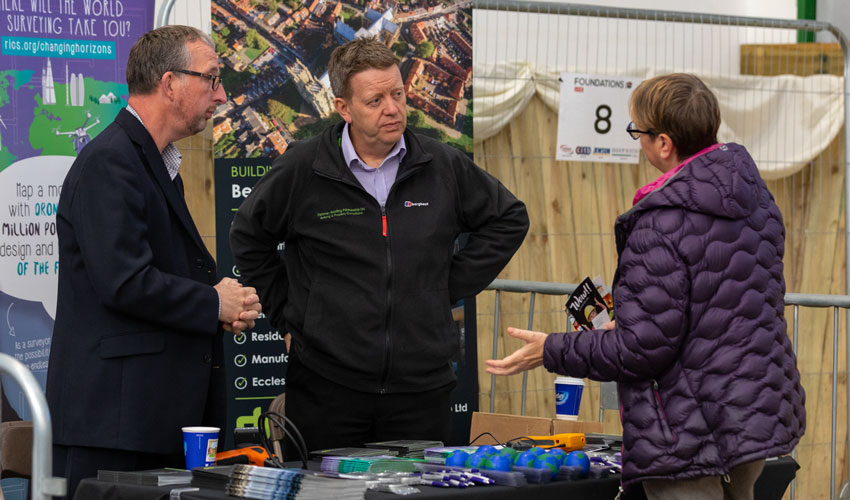 The construction industry united in a collaborative effort to raise awareness and help find the thousands of workers needed in the coming years.
This year's Foundations Live event at Bishop Burton College saw over 70 exhibitors join forces to showcase the wealth of opportunity offered by the sector.
Hobson & Porter created the programme to help address the skills gap in the industry. This year's event was attended by hundreds of people, including students from 16 schools and colleges from East Yorkshire.
Dave Blades, director for Hobson & Porter, has praised everyone involved in this year's event.
He said: "This year was all about momentum after last year highlighted the importance in working together to increase the workforce in the construction industry.
"Events like Foundations Live to showcase the power of collaboration and the hard work the industry is doing together to demonstrate the wealth of opportunity in construction.
"None of this is possible without the individual support of organisations both for the Foundations' event and throughout the last 12 months."
This was the fourth Foundations Live event, with BBC One's DIY SOS star Mark Millar returning and addressing the visitors.
He said: "This year has been even better than last with more exhibits and demonstrations and more contributors.
"Events like Foundations are really important. Construction is an industry that actually cares and this is an industry that will deliver so many different trades – from architecture and gardeners, through to bricklayers and plumbers.
"All the different trades have been brought together under one roof and all the contributors at Foundations want to bring these kids forward, want to give them a chance and that is what it is all about."
Bishop Burton College's Equine Arena was taken over by the construction industry with representatives from all kinds of trades from scaffolding through to bricklaying.
Stu Crompton, founder of Best Bricky Academy said it was a great event for networking. He set up a bricklaying academy after the success of his YouTube channel which has tens of thousands of subscribers.
He said: "I think Foundations Live was great for everybody involved. I came to do a bit of networking. It was great to see different inventions, different companies and see the latest products. It was also good to meet like-minded people and get your name out there and help people out."
Among the latest products being showcased included HoloLens – reality smartglasses. Building surveyor Danielle Fleming was running the exhibit for East Riding Infrastructure and Facilities.
She said: "It's a very good event to celebrate the construction industry and the variety, from getting your hands dirty on-site to the office environment."
For Kevin Marling, from Delaney Marling Partnership Chartered Building Surveyors, it was the chance to give something back and showcase the wealth of opportunity.
He said: "It's fantastic and was a great chance to spark people's interest in a career in construction. The students were very engaging and there were a variety of businesses here. It's so important to get people together and events like this do that."
The annual event celebrates and centralises all the best bits of the year-long Foundations scheme, bringing the industry together to create two events under one roof. This included a professional business networking and trade event.
Lincoln Adams is from Brammer Buck and Hickman.
The key account manager said: "We've been coming for three years now with different suppliers. It's a fantastic event and really good for showcasing who we are and what we do. It really opens the school kids' eyes to products they don't see day today."
Hundreds of people attended the interactive careers' event from primary school age through to adults re-training, learning what the industry has to offer and how it will face the challenge of an ever-present skills shortage.
Among the schools attending this year was Craven Primary Academy in Hull. Carole Carmichael said it's the first time they've been. She said: "We've come here to show the children other things they can aspire to. I think it's really good.
"They have been finding out about building and construction. It's been hands-on and appealing for them. Fingers crossed we'll have a few construction workers of the future."
Among the students interested was 9-year-old Dylan. He said: "We've been building pyramids, but it's been hard.
"I've enjoyed the construction event. It's the first time I've really learnt about it."
Janice Chattaway, Humber Advisor for the CITB, one of the event's partners, said: "This is so much more than just a careers event. It brings together employers involved in the supply chain, allowing people of all ages the opportunity to see the wide variety of roles that are involved in the industry.
"It also gives employers an opportunity to see the wide range of products and services that are available. There is something for everyone at Foundations Live, a truly fantastic event."