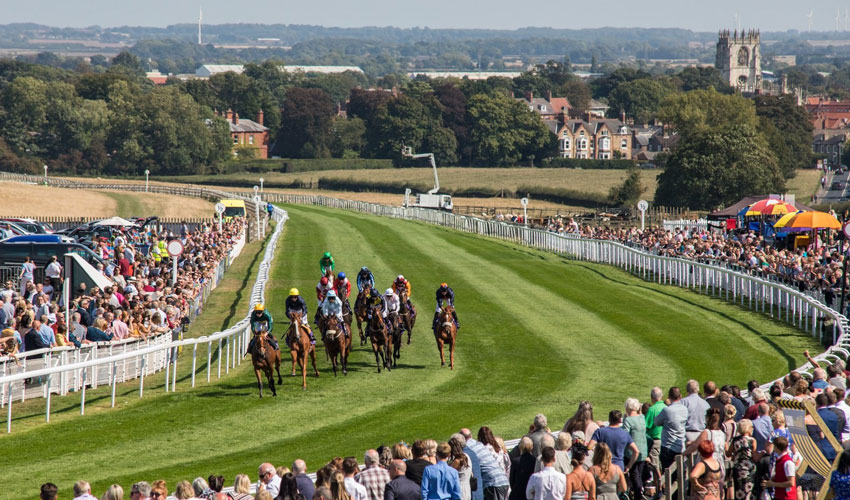 The team at Beverley's award-winning racecourse are already planning new initiatives and a major investment in facilities after a successful 2019 season drew to a close.
Despite facing adverse weather conditions throughout spring and summer, the season attracted similar bumper attendances to last year, with almost 80,000 racegoers enjoying meetings at the picturesque racecourse.
Highlights included a charity takeover racenight supporting the work of five of the region's most worthy causes, raising funds for Cash for Kids, the Daisy Appeal, Dove House Hospice, Hull Homeless Community Project and R-evolution.
The event also saw Syrian refugees take part in the Refugee Cycle Challenge ride around Beverley, finishing at the racecourse where they enjoyed a welcome party with afternoon tea and a behind-the-scenes tour.
The annual Ladies' Day – the most popular event in Beverley's racing calendar – saw celebrity bartender Merlin Griffiths dazzling racegoers with his mixology skills to create the perfect tipple.
Winners of this year's Most Stylish competitions came away with a weekend for two to the Christmas Markets of Cologne donated by Humberside Airport, and a gentleman's watch worth more than £500 donated by Beverley jeweller Guest & Philips.
Meanwhile, Michelin-starred chef James Mackenzie, Chef and Proprietor of Michelin-starred gastropub The Pipe and Glass, created an array of mouth-watering dishes for racegoers in a partnership which is likely to continue in 2020.
The highlight of the successful gastronomic partnership was a special Pipe and Glass kitchen "takeover" on the final raceday of the season, during which guests were able to enjoy a spectacular 3-course lunch and meet the acclaimed chef.
This season also saw the racecourse team create a "herb house" by the Premier Enclosure, where herbs are grown to complement gin sold on racedays.
Mixologist and herb and gin expert Oliver Fairey served up the herbal treats for gin-lovers at various meetings, as well as blending a range of soothing herbal teas for racegoers to try. This organic addition will continue into 2020 as the herb house grows.
Kate McKee, Marketing Manager at Beverley Racecourse, said: "We've had some really positive feedback about this season as a whole, including our popular themed events and our herb house.
"When we launched the herb house on Ladies' Day, gin sales went up by 11% and we sold out of herbal teas. It's something a little bit different. Everyone loved the concept and Oliver really engages with everyone he meets, so it adds some theatre to the day.
"We also took measures to become more accessible to our older and younger visitors. We improved access to tiered seating and reduced food portion sizes and prices in several of the food outlets.
"We also achieved breast-feeding friendly status and created areas for heating up babies' food and milk.
"Although we faced a few challenges with the weather this year, it was fantastic to see so many people return to the racecourse for our packed programme of meetings and events. We're looking forward to building on this for 2020 and beyond."
Plans are already well underway for the 2020 season, with the first race meeting scheduled to take place on Wednesday, April 15.
Other key dates and popular theme events for the 2020 diary include stepping back in time for the racecourse's Bygone Beverley meeting on Friday, May 8, which falls on the newly rescheduled Bank Holiday weekend, and Victory in Europe (VE) Day. Racegoers will be able to enjoy racing as it used to be and dress to impress for the occasion.
Next year will also be a major turning point for Beverley Racecourse's grandstand, which is set to undergo a major refurbishment at the end of the 2020 season with a £3.3m investment to create a conference space for up to 400 delegates, an enhanced raceday experience and views for racegoers, as well as an alfresco dining area on the second floor.
In addition, a new public entrance will ensure a smoother arrival at the racecourse and the stand will become fully accessible with lifts to all floors, while a new commentator's box is also included in the plans.
Work is expected to begin in September 2020 and completed by the start of the following season in April 2021.
Sally Iggulden, Chief Executive of Beverley Racecourse, said: "The grandstand will be a fresh new-look venue providing modern and fully-accessible facilities for our racegoers and visitors.
"This will be the largest single investment ever made at Beverley Racecourse to safeguard its future and provide one of the largest scale conference centres in the East Riding."